Are you looking to build a Binary MLM Software for Network Marketing Business?
Well that would be a really great idea!
If your network marketing company pays out its compensation in the Binary MLM format, then using of a Binary MLM software would be really a complementing factor for your business.
How Binary MLM Compensation Plan Works?
A Binary Compensation Plan follows a two-legged structure. They are called the Left Leg, and Right Leg. Here every new MLM agent is added in either the right or left subtree. When one subtree is called a Power Leg or Profit Leg, then the other leg is called either a Profit Leg or a Weak Leg. Whereas, Binary MLM Software is a web application that makes the managing of an entire network marketing business smooth and easy. It helps to generate reports, calculate commissions, and much more.
In short, they help to reduce the manual work done by MLM companies and it suits for all kinds of network marketing companies whether they are small or big. In a binary MLM plan, each member should recruit or sponsor a minimum of two new members. And this results in the fast expansion of the Genealogy tree in a short span of time. In the first line of the Binary MLM Plan, there will be basically two legs, the Left Leg, and the Right Leg. And if a person recruits more than two members, the third member he recruited will be placed under the available slot in the Power Leg.
this process is called Spillover. And the process of spillover allows a new member to be shared between every downline's power leg, regardless of the person who recruited them.
In the case of Profit Leg, the process of Spillover won't be there. It's because the Profit Leg will be expanded only with the individually sponsored downlines. A binary Plan is more quantity dependent other than level dependent. It automatically induces to recruit new affiliates to your organization.
Binary Compensation Plan is one of the most used compensation plans among the leading MLM companies. The reason behind is that most MLM compensation plans pay commissions once a month & many binary plans pay bi-monthly or even weekly and also this plan has the ability to earn a commission from deeper generational levels.
For more details on MLM Companies which use the Binary Compensation Plan,
Advantages of Binary MLM Plan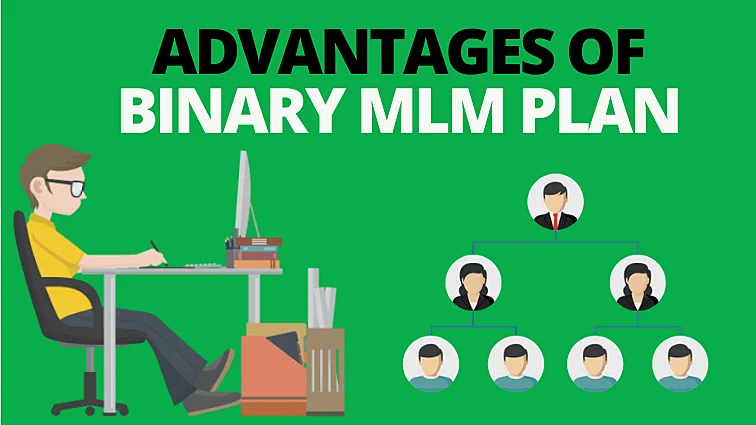 In Binary MLM Plan, you have the advantage of earning additional income from the Spillover of your Upline, since the extra person is placed on the Right Leg. It's because in Binary Plan you will be having only two frontline distributors.
You will be needing to build only your Left Leg, since the Right Leg is already built by the Spillover.
You can earn almost the double income than the total number of directs placed under you.
Binary MLM Plan has no limitation in its depth, unlike the other plans.
Binary MLM Plan grows much faster compared to its allies.
This plan is the most favoured one by the start-up companies, since it's simple to understand.
Binary MLM Plan Fostering Teamwork and Consolidating Synergies
In Binary MLM Plan all members will get benefits
Conclusion
In Binary Compensation model, each and every member will get the most benefit from the new members which are sponsored by their upline in the same leg. Also you will be eligible for extra bonus for the every single person you recruits! Are you an MLM enthusiast working in a company which follows out the Binary Compensation Plan. Well, then take advantage of the one of the best compensation model today itself.