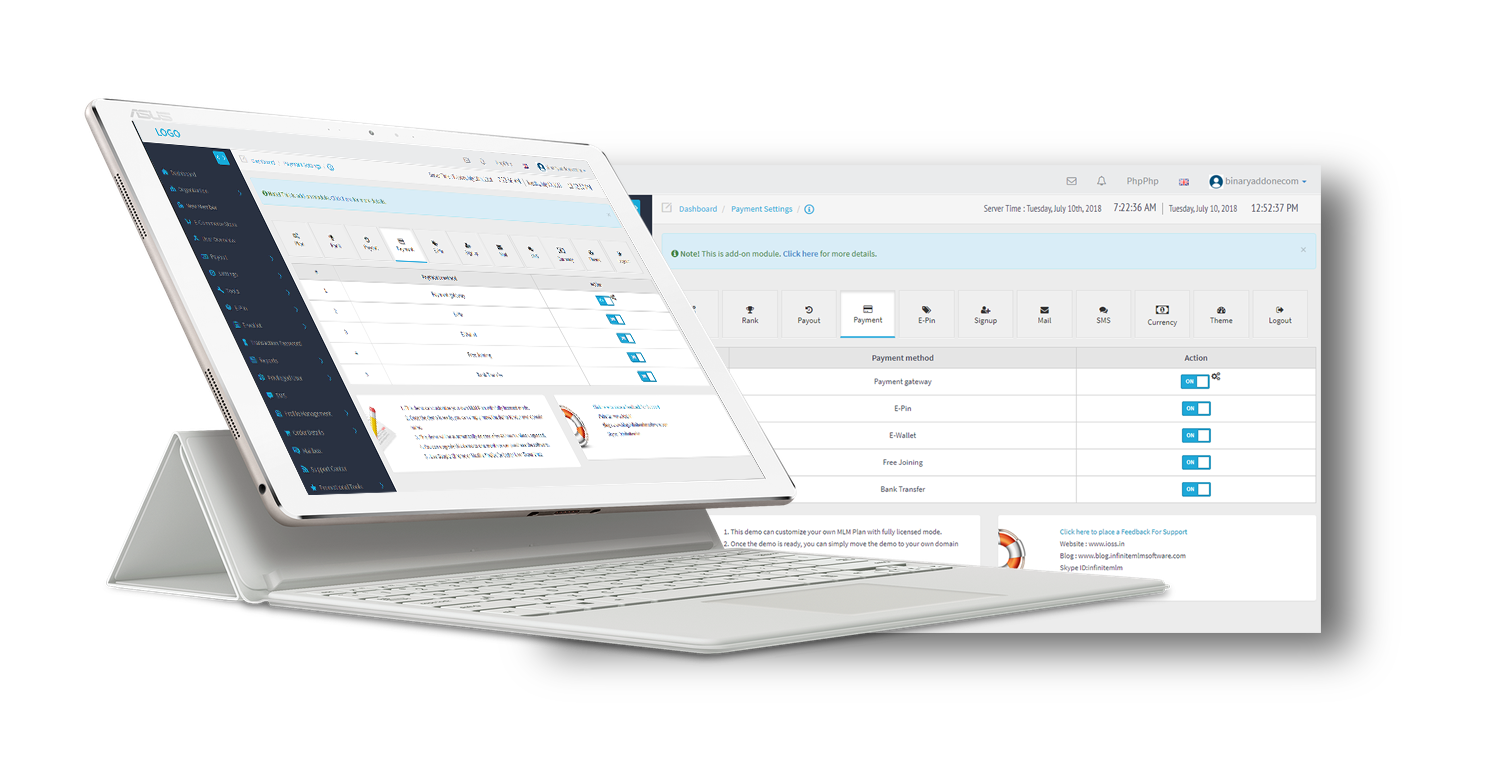 The Infinite MLM Software provides high-end user-friendly support in the payment process. We have a profound expertise and experienced professionals for developing all payment gateway methods. Infinite MLM Software offers wide-range of payment gateway options for our customers, to facilitate the payment process around the globe. We provide a secure mode payment transaction by using credit cards, debit cards and many other alternative payment methods. Through our Automated Payment Systems, our customers get a high-speed, affordable and reliable online payment process with top-notch security. We integrated our MLM Software with almost all popular and widely used secure options of payment gateway integration including The ePDQ-Barclaycard, Authorise.net, Paypal, E-pin, E-Wallet, Credit card operations and we are ready to integrate with any other advance payment gateways which meet our criteria.
The Main payment supporting systems are
The ePDQ-Barclaycard
Barclaycard is the on-line and card payment service of the British multinational bank and financial giant Barclay's. The ePDQ-Barclaycard is a part of the visa network, and this is the widely-used credit card in Europe and UK. We integrated our MLM software perfectly with ePDQ-Barclaycard and associated services.
More at www.barclaycard.co.uk
Authorize.net
Authorize.net is one of the largest on-line payment gateway providers in the world. They allow traders to transact using the card and electronic check payments through their Web site over an IP connection, To make more flexibility in the online transaction, we successfully integrated our Infinite MLM software with eAuthorize.net.
More at www.authorize.net
Paypal
Paypal an American on-line payment and money transfer method, One of the most popular payment gateway around the World. Infinite MLM Software is integrated with Paypal and offering our customers a chance to use the most convenient on-line transaction method.
More at  
www.paypal.com
Credit Card / Debit card 
The most popular method of online transaction. We have the expertise in integrating our Infinite MLM software with almost every credit and debit cards providers including visa, maestro, master card, E-PDQ Barclaycard, Authorise.net and more.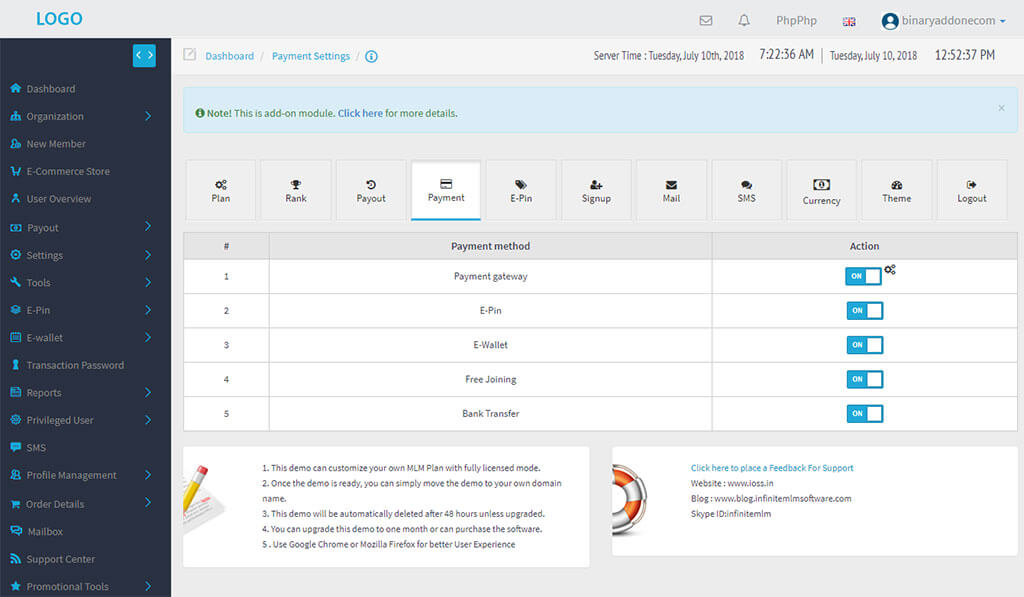 We have the resource to integrate with any payment gateway options including
| Payment Gateways | Supporting Countries | Pay In | Pay out | Website |
| --- | --- | --- | --- | --- |
| Paypal | Worldwide | Yes | Yes | www.paypal.com |
| CyberSource | Worldwide | Yes | No | www.cybersource.com |
| i-payout | Worldwide | No | Yes | www.i-payout.com |
| Liberty Reserve | Worldwide | Yes | No | www.libertyreserve.com |
| SolidTrustPay | Worldwide | Yes | No | www.solidtrustpay.com |
| Cryptocurrency (Bitcoin) | Worldwide | Yes | Yes | www.bitcoin.org, https://www.blocktrail.com |
| HIPAYWALLET | Worldwide | Yes | Yes | www.hipaywallet.com |
| eway | Australia, New Zealand, United Kingdoms, Singapore and Canada | Yes | No | www.eway.com.au |
| Skrill | Worldwide | Yes | No | www.skrill.com |
| hipay | France,Belgium,Italy,Portugal,Spain,USA,Brazil | Yes | No | www.hipay.com |
| Alliedwallet | US,Russia,China and UK | Yes | No | www.alliedwallet.com |
| Authorize.net | United States, Europe | Yes | No | hwww.authorize.net |
| First data | Worldwide | Yes | No | www.firstdata.com |
| NMI | United States | Yes | No | www.nmi.com |
| Brain tree | North America,Europe,Asia & Australia | Yes | No | www.braintreepayments.com |
| CC Avenue | India | Yes | No | www.ccavenue.com |
| EBS | India | Yes | No | www.ebs.in |
| Barclaycard | Europe | Yes | No | www.barclaycard.co.uk |
| Payfast | South africa | Yes | No | www.payfast.co.za |
| beekash | Turkey | Yes | No | www.beekash.com |
| redsys | Spain | Yes | No | www.redsys.es |
| payu | India | Yes | No | www.payu.in |
| Hipay direct | dubai | Yes | No | www.hipaydirect.com |
| Bluepaid | US,Europe & Australia | Yes | No | www.bluepaid.com |
| Sofort | Germany | No | Yes | www.sofort.com |
| ePay.bg | Bulgaria | Yes | No | https://www.epay.bg/ |
| PlatiPosle | Bulgaria | Yes | No | https://platiposle.bg/ |
| myPOS | Europe | Yes | No | https://www.mypos.eu/en/home |
| BlueSnap | Worldwide | Yes | No | https://home.bluesnap.com/ |
| Payline | US | Yes | No | https://paylinedata.com/ |
| Perfect Money | Hong Kong | Yes | No | https://perfectmoney.is/ |
| Payza | UK | Yes | No | https://www.payza.com/ |
| Payeer | GEORGIA, RUSSIA | Yes | No | https://payeer.com/en/ |
| Amazon Payment Gateway | Worldwide | Yes | No | https://aws.amazon.com/api-gateway/ |
| Mollie | Netherlands | Yes | No | https://www.mollie.com/ |
| Saferpay | Wordlwide | Yes | No | https://www.six-payment-services.com |
| Recurly | US | Yes | No | https://recurly.com |
click here to try our Demo