Are you planning to join the Mighty Giant online marketing system? Are you looking for the Mighty Giant review? Yes! Here in this article, you will be able to find the Mighty Giant review-a CRM for network marketers.
The Mighty Giant Review – Everything You Need To Know
| | |
| --- | --- |
| Mighty Giant | Online Marketing System |
| Developed By: | Networx Online, Inc. |
| Website: | https://www.themightygiant.com |
What is The Mighty Giant?
It is a system for online marketing that was built by Networx Online, Inc. It is a unique system with all features to promote any product, company, or business opportunity. It is also well known as a universal marketing system.
Basically, it is developed for network marketers and direct sales business. However, it can also be used by other industry sectors. It helps all types of business by assisting with content management, a proper communication channel to have any follow-up. This shows that the mighty giant is suitable for all types of industries and also well known for being the best contact manager. It is equipped with high-end features and is very easy to use.
How does It work?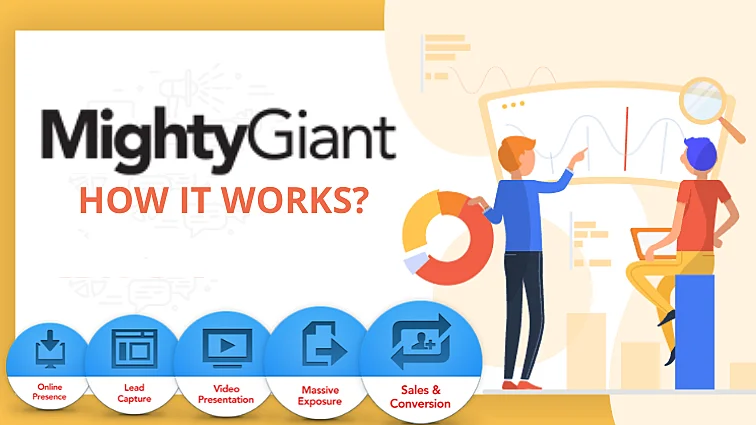 Activate your own accountSet up your own account with the Mighty Giant online system. This will enable you to create your own URL and can share it with your prospects. Personalize your site so that the prospects will get to know about your business opportunities.
Customize your pageCustomize to have a capture page, webinar, video session, and other important info. This system provides you with predefined templates, autoresponders, video presentations, etc. You will be able to upload your own or use it from the creator's tools. Now it is 100% customizable for you.
Open for your businessNow it is ready with tracking, prospect management, automated follow-up system, etc. This system helps you to find online and offline marketing strategies to generate more traffic to your website.
The Features Offered By The Mighty Giant
For the past 18 years, it has been updated with all features to satisfy its customers. All these years were a good experience for them to learn more about this. It showed them which would work vs which would not work and which is important vs unimportant. This helped them to achieve a successful marketing system.
They have developed around 200 marketing systems and one of the popular marketing systems is the Mighty Giant. Here they have solved all the complexity involved in the system and provided a simple and easy system for its customers.
The enriched features are like Smart Sender, Contact Manager, Broadcast Tool, Email Campaigns, Marketing Website, and many more.
How Mighty Giant is Beneficial For The Network Marketers
This online marketing system enhances individual and team productivity. The system is designed in such a way that it makes its members more effective and efficient in their work. This will enable you to manage and grow your business well. A good return on investment is achieved with this marketing system. It means you need not invest more in the system to achieve better results.
This system has got wonderful technology that enables you to be more effective and it will do much of your work with the automated features and will assist you 24/7 in your network marketing business. You can manage an unlimited number of contacts with no change in the price. With the same price of the system, you can go ahead and maintain your contacts with this system.
It is well understood that customers connect with you instead of connecting their business only with the technology. The Mighty Giant system is enriched with features, technology and you need to analyze with skilled people to move ahead and achieve success. This will allow you to take your business to the top level without any risk.
How To Make Use Of This System?
The quality of the system is to add and qualify people on a daily basis. The presentation and communication tools available on the system will assist you to present your business, company, products, and opportunities.
Enable the system to follow up with your contacts and make them comfortable with the sales process. These contacts will become the future prospects and these prospects become the potential distributors or customers of the business.
All the required tools for network marketing business are available in this system and you can make use of this as a plugin and follow some simple strategies to achieve business productivity.
The Mighty Giant Package
Following are the account levels offered in the Mighty Giant system
Professional: $1 for the 7-day trial version and a monthly charge of $12.95
Premier: $1 for the 7-day trial version and a monthly charge of $29.95
When compared to other CRM, it is highly affordable with high-level features and functionality.
More Reference
To learn more about the Mighty Giant click on the following links
1: Look into 8 min Mighty Giant Video: View Video
2: Homepage of Mighty Giant
3: Try with the 7-day trial version by signing up with your own account
To know the real benefits of any software, you need to understand whether it provides the outcome that you require with less input. For this, you need to try this software. Get to know the backend of this system with the trial version.
Conclusion
Finally, in this article, you will be able to find a complete review of the Mighty Giant. You can see good reviews about this marketing system over the internet and they recommend it if you are looking for a good CRM system and we can conclude that the Might Giant is a good CRM for the network marketers.
Disclaimer
This Network Marketing company website has been inactive for a while. So, being a part of the "Mighty Giant" should be only after profound research and investigation. Hope you choose the best one with the perfect solutions.