We are excited to introduce you to the most recent software release, version 15.1, of Infinite MLM software. The renowned team at Infinite Open Source Solutions has meticulously included significant technological advancements and performance enhancements into this release.
Notable modifications have been implemented in the software's underlying technology stack, alongside enhancements in the user interface on the administrative side. As such, revamped dashboard offers an intuitive and visually appealing user experience, making it more user-friendly and efficient than ever before.
But that's not all! We understand that speed, scalability, and overall performance are critical to your success. That's why we've fine-tuned these aspects, ensuring that Infinite MLM software 15.1 is not only faster and more scalable but also more robust and reliable than ever before. Let's delve deeper into the updates within Infinite MLM software version 15.1.
Highlights of Version 15.1
User Interface Update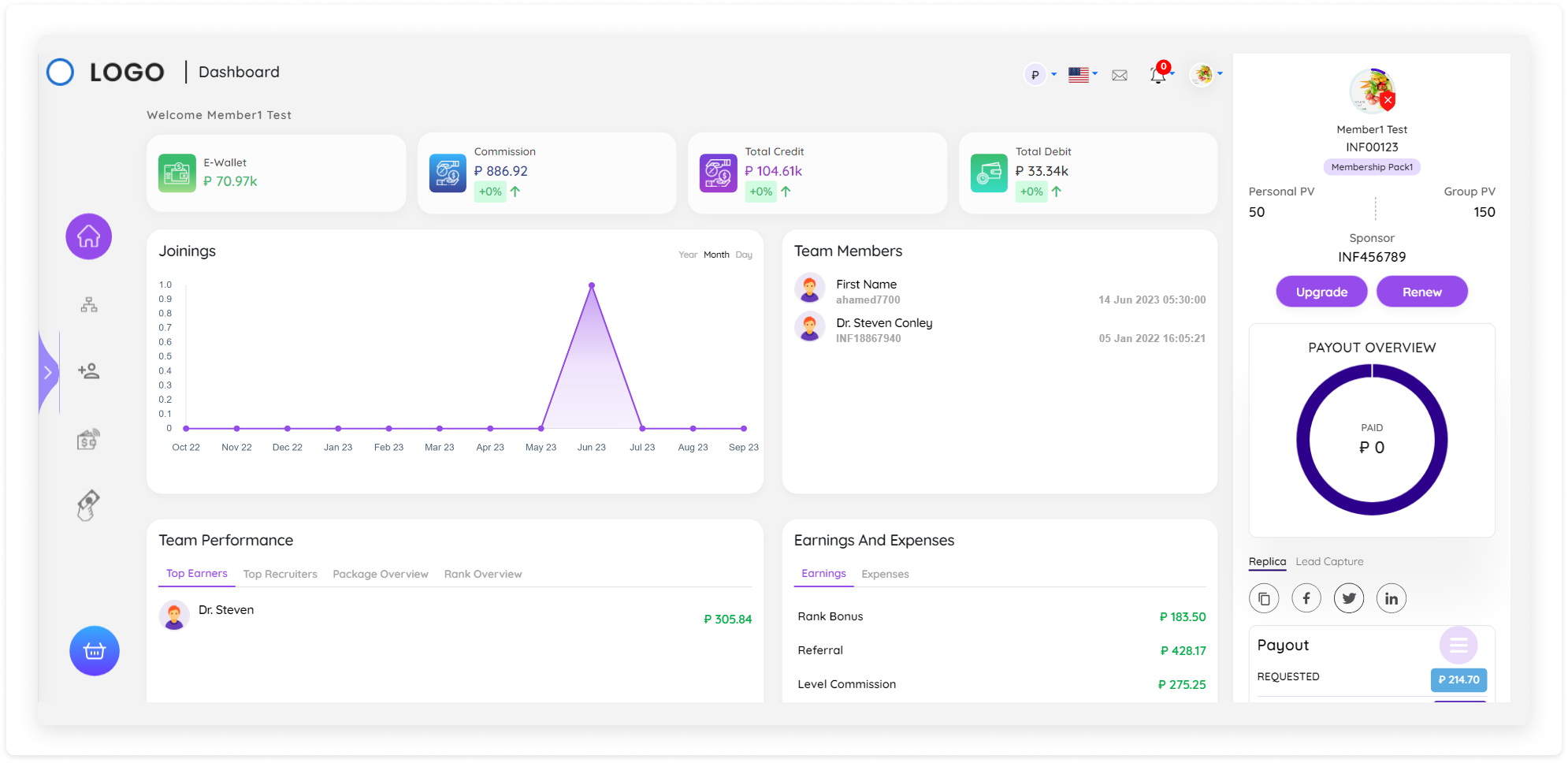 The latest update of the Infinite MLM software introduces a striking new User Interface that not only enhances the platform's aesthetics but also elevates the overall user experience. The renovated UI is designed with a focus on user-friendliness, making it incredibly intuitive for both new and experienced users to navigate and utilize the software's extensive features. The sleek and modern design not only enhances visual appeal but also reflects the software's commitment to staying at the forefront of innovation in the MLM industry. With this update, users can look forward to more seamless interactions with the software.
Node Version Upgrade
The Node Version Upgrade in the latest release of Infinite MLM Software delivers a substantial boost in performance and scalability to the platform. This enhancement ensures that MLM businesses can now handle their expanding networks with even greater efficiency.
Genealogy Tree
The genealogy tree has been made even more appealing with the addition of zoom-in and zoom-out functionalities, as well as the option to view it in full-screen mode. These enhancements have significantly improved the overall user experience.
The addition of the "more button" with count in the Unilevel MLM plan allows for efficient management and easy access to view multiple registrations made under a single member. This in turn enhances the user experience by streamlining navigation and providing a quick overview of the network's size and structure. This feature simplifies the tracking of downline members, facilitating better organization and decision-making within the MLM network.
In the binary MLM plan, "more button" improves accessibility and transparency. This allows members to easily monitor and balance their teams on the right and left sides, thereby promoting a more equitable distribution of commissions and incentives within the network.
Quick Menu Button
The quick menu button has now been made readily accessible on the user interface. Within this handy quick menu, you'll discover various options such as the ability to download materials, access FAQ sections, and stay informed about the latest news.
Enhanced Security
This update introduces a secured payment system, ensuring that all financial transactions within the MLM platform are protected with state-of-the-art encryption and authentication protocols.
Data-Driven Login
The login button will become active or clickable only when you enter information into the login form. This intelligent design ensures that users can only access the system when they've provided the necessary login credentials, enhancing both security and user experience.
Check our Previous version releases:
With the release of Infinite MLM Software version 15.1, we are taking a significant leap forward in enhancing our capabilities, offering a more robust and feature-rich MLM solution. These upgrades not only make us more competitive but also empower our users to achieve even greater success in the dynamic world of network marketing.
In a nutshell
As such, version 15.1 of Infinite MLM software is a testimony to our commitment to innovation and excellence in the MLM industry. We've combined the latest technological advancements with a user-centric approach to deliver a software solution that empowers your MLM business like never before. Thank you for choosing Infinite MLM software, and we look forward to supporting your success in this dynamic industry.