WordPress MLM templates are a great option for those looking to make money through multi-level marketing. These templates make it easy to add income-generating affiliate links and simplify the process of building an MLM website with the use of the WordPress MLM Plugin. To take things to the next level, consider custom MLM software development services for a more personalized approach. With features like professional-looking reviews, including product comparisons and star ratings, fully responsive designs, theme customization controls, and bundled premium plugins, you'll be able to offer a seamless and professional experience for your MLM audience.
List of Top 10 Free WordPress MLM templates
Choosing a purpose-built affiliate theme plays an important role in the success of your WordPress website.
The below MLM WordPress themes we listed out is a perfect choice that can be installed and go live without any further support from a wordpress development company for any customization.
Some of these MLM WordPress themes are also available as part of multi-template theme clubs. And hence if you are interested to buy more than one theme, definitely have a look below.
List of Top 10 Free WordPress MLM templates
1. REHub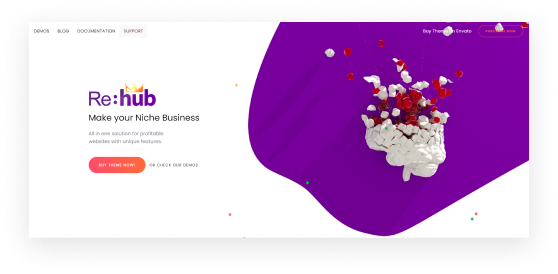 REHub is a versatile WordPress MLM template that offers numerous features to showcase products and increase sales. It supports both WooCommerce and Easy Digital Downloads, allowing for affiliate promotion alongside your own inventory. The theme also provides various affiliate-related plugins, such as product comparison tables and outbound link management. With a flexible layout and modern design, this MLM template is an excellent choice for those seeking to generate income through affiliate commissions.
Features of REHub WordPress theme:
Full site editing
Customise everything
Multi-language support
Advanced affiliate functions
Enhanced ad-options
2. SteadyIncome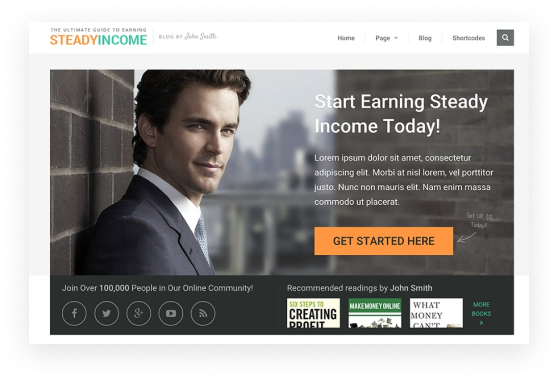 SteadyIncome theme is ideal for affiliate marketers looking to build revenue-generating websites due to its fast-loading design. Its speed benefits include higher conversion rates and better search engine rankings. The theme also boasts an email list building tool, stylish social media icons, and a fully responsive design for all devices. Additionally, it showcases featured products prominently to maximize visibility. This MLM templates offers many exciting features for website owners to optimize their affiliate marketing efforts.
Features of SteadyIncome WordPress theme:
Engaging design
Higher subscription rate
AdSense optimized
Fluid responsiveness
Integrated social media buttons
3. Rethink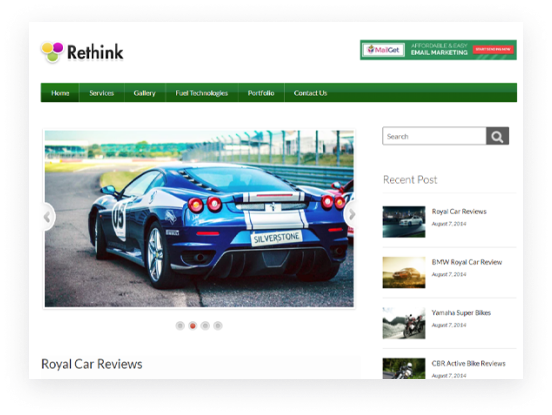 Rethink theme version 2 offers excellent features for creating the ideal affiliate website, with a focus on publishing product and service reviews. The theme includes tools for product comparison, making it easy for visitors to find the best deal and increasing the likelihood of earning referral commissions. With a stylish design and optimized product review handling, Rethink allows website owners to create a professional-looking website with significant earnings potential. It is a comprehensive solution for building a successful affiliate marketing website.
Features of Rethink WordPress theme:
Product Rating
Widgetized Sidebar
Social Icons
Easy to use interface
SEO optimized
4. Splash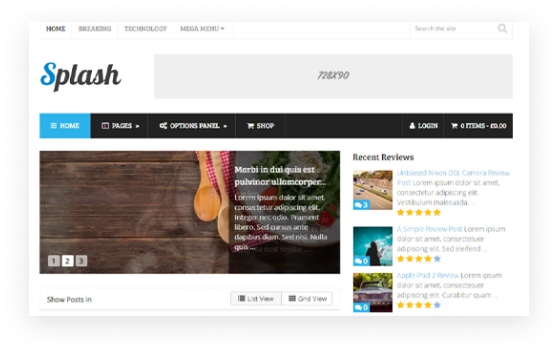 Splash is a powerful WordPress theme that offers flexible layouts and a clean, modern design. Website owners looking to improve their website's performance often find the faster load times of this option attractive. The design of this MLM templates makes it easy to integrate product reviews, make them stand out on the page, and improve user interaction. Splash is a versatile and effective option for affiliate marketers and website owners looking for a modern and powerful theme to build a successful online presence.
Features of Splash WordPress theme:
In-built rating system
High speed
Unlimited colors
Social media integration
WooCommerce support
5. Voice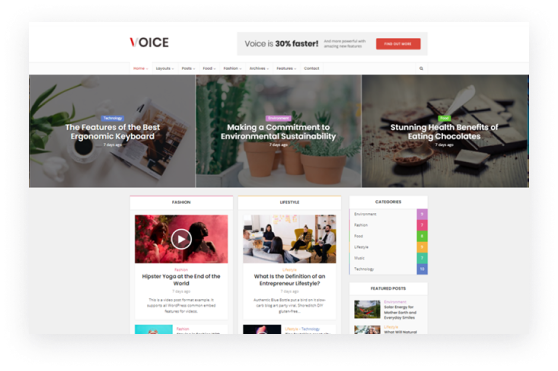 Voice theme features a full-width layout with a cover photo, perfect for showcasing your content. Additionally, the theme comes with a variety of useful shortcodes that you can easily insert into your content such as progress bars, font icons, buttons, tabs, column layouts, and more. This makes Voice an attractive option for those who produce content on a regular basis and want to earn money through affiliate links. Its sleek design and user-friendly features make it perfect for creating visually appealing and effective affiliate websites.
Features of Voice WordPress theme:
Responsive design
Advanced theme options
Built-in performance options
Unlimited fonts and colors
Compatible with popular plug-ins
6. SKT Start-Up Lite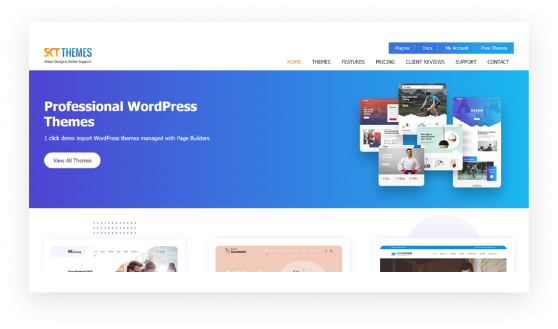 Start-Up Lite is a versatile and stylish WordPress theme that is an excellent choice for MLMs launching their business. Built with Elementor page builder and Gutenberg for inner pages, it also supports multi-languages, making it ideal for MLM companies with a global reach. The theme is compatible with HTML5 and CSS3 and features support for maps, videos, and seven tested plugins. With WooCommerce integration, it's suitable for all types of businesses and multipurpose use.
Features of SKT Start-Up Lite WordPress theme:
Mobile Friendly
WooCommerce integrated
Full color changing theme
Translation and Multilingual ready theme
Social sharing integrated
7. Kraft
Kraft is a robust and user-friendly WordPress theme that offers a variety of features to meet the design requirements of any website. Thus,it is a multi-purpose and dynamic WordPress theme suitable for diverse businesses. With animated columns, 500+ fonts, and well-designed icons, it provides ample design configuration options. The MLM templates is also mobile-friendly, translation-friendly, and supports multiple languages. Coded with HTML5 and CSS3, Kraft has an excellent development behind it, making it a reliable choice for any website.
Features of Kraft theme:
Animated columns
Social media integration
SEO friendly
Integrated with 500+ font
100+shortcodes
8. Perfect Lite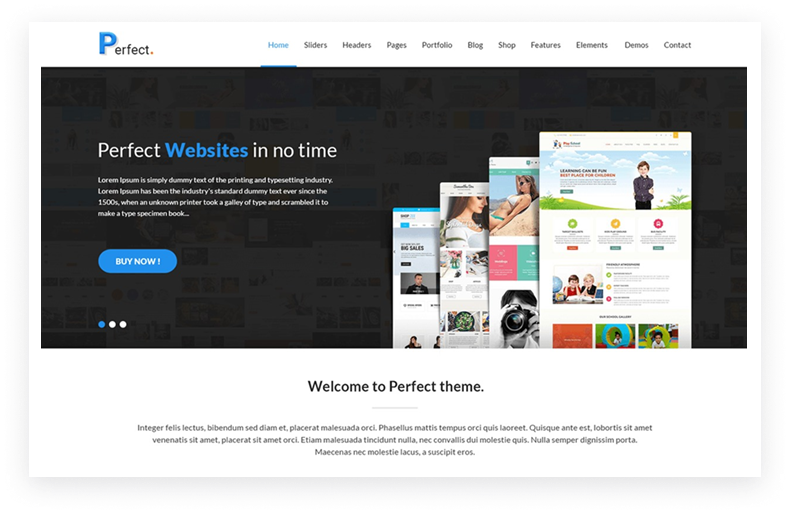 Perfect Lite is a versatile WordPress theme designed with the SKT page builder and can be easily customized for any business. Its inner pages are compatible with popular page builders like WP Bakery, SiteOrigin, and Elementor. The theme is translation-friendly, allowing for use with translation plugins such as Polylang, qTranslate, and WPML. It is suitable for various industries and its integration with WooCommerce makes it ideal for direct selling companies to showcase their products and connect with potential customers online.
Features of perfect lite theme:
HTML5 and CSS3 based
Woocomerce integrated
Easy customization
SEO Friendly coding
9. Hestia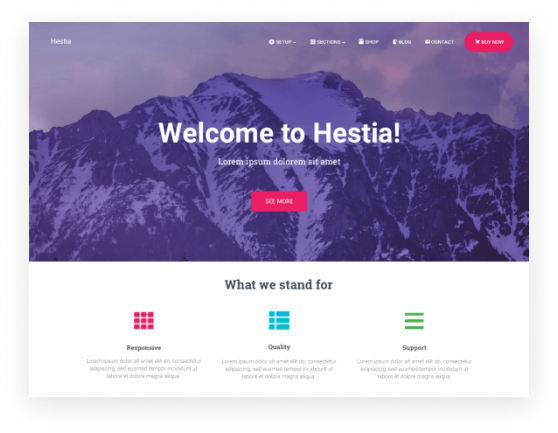 Hestia offers a modern and professional design that is fully responsive and looks great on all devices. It also offers a wide range of customization options, including customizable colors and fonts, and integration with popular plugins like WooCommerce and Mailchimp. The theme also comes with pre-built sections so you can easily create a professional looking website for her without the need for any code. This MLM template is a great choice for those looking for a flexible, easy-to-use theme that can be easily customized for your specific needs.
Features of Hestia theme:
Material Design
Customizable Sections
WooCommerce Integration
Page Builders Compatibility
SEO Friendly
10. Zillah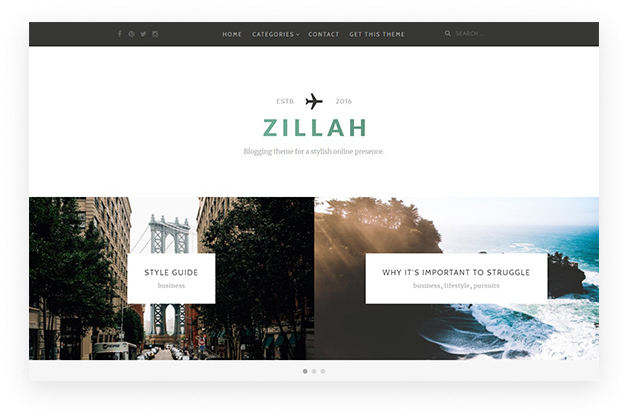 Zillah is a free WordPress theme that offers a clean and modern design, making it a great option for MLM companies looking for a polished and professional website. This theme comes with various customization options such as customizable colors and fonts, making it easy to make his website fit your brand. Zillah also includes integrations with popular plugins such as WooCommerce and Jetpack to add ecommerce functionality and more to your website.
Features of Zillah theme:
Responsive Design
Customizable Layouts
Social Media Integration
Post Formats
Translation Ready
Conclusion
In a nutshell, free WordPress MLM templates are the secret sauce in helping network marketers look their best without spending a fortune. With the help of these MLM templates, you can make a website that looks expensive without breaking a bank. And the best part? This is as easy as a pie! Therefore, using an MLM template for your WordPress site is a no-brainer if you're a network marketer looking for an affordable solution that's as simple as falling off a log!