Direct Selling provides vast opportunities where you can have unexpected profits with a little effort. In addition, you can use direct selling as a source of passive income.
Joining an MLM company would help you achieve the above-said profits. However, you must be confused as there is an extensive list of Direct Selling Companies to choose from. Here is a list of India's top 10 leading direct selling companies.
Top 10 Direct Selling Companies
Modicare
Amway
RCM
Mi Lifestyle
Herbalife
Oriflame
Vestige
DXN
IMC
Forever Living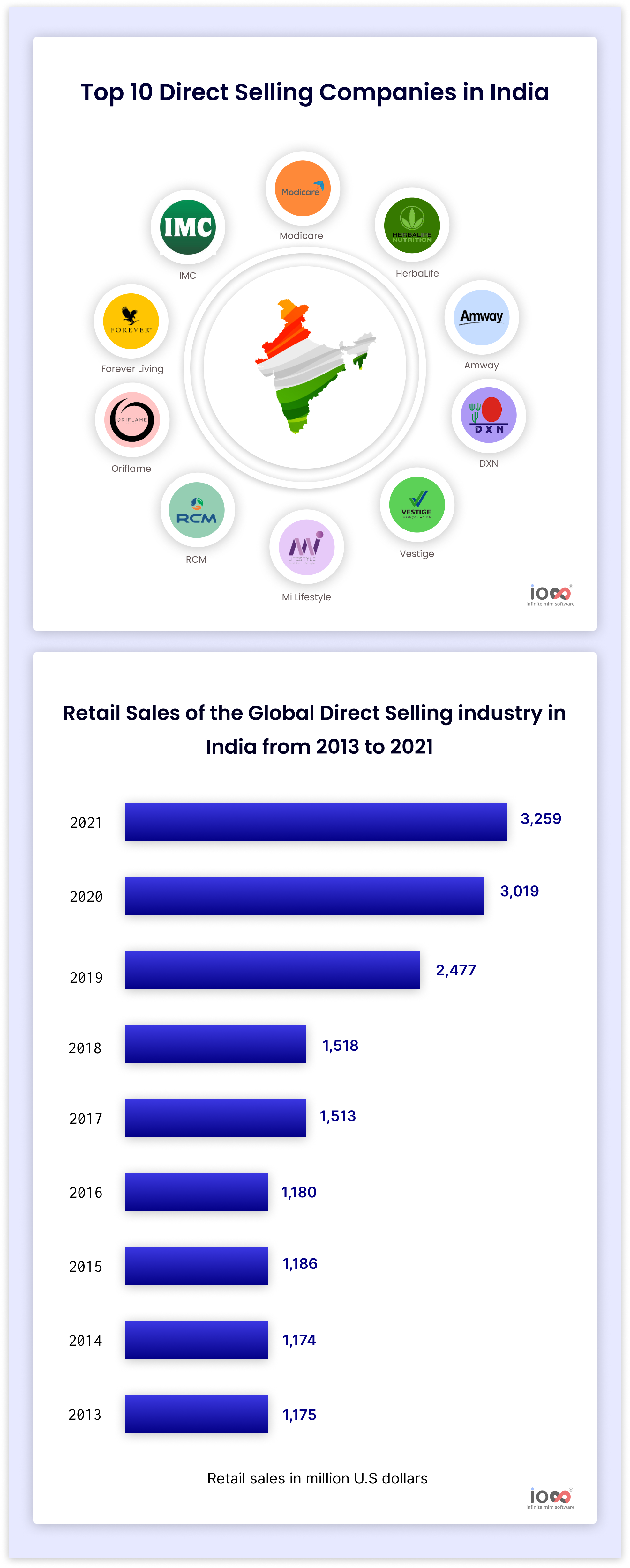 Continue reading for more information and choose the best one.
1. Modicare
Modicare is the first Direct Selling Company in India. Established in 1996, Modicare focussed on the philosophy of enhancing, engaging, and empowering people's lives. It sells products related to wellness, skincare, personal care, home care, food and beverages, watches, tech, jewelry, and others.
The age-old custom of giving back to people while improving lives for a better, more secure future has been the legacy behind Modicare's success. Samir Modi, the owner of Modicare, is a New Delhi-based businessman who founded the Colorbar cosmetics line and the Twenty-Four Seven convenience store network. Modicare has a revenue of more than $96M as of 2022.
2. Amway
Amway, India's number one direct selling company, has a massive market influence with various products, including health, nutrition, beauty, and home care. No registration fee is required, and you can earn through network marketing.
In addition to this distinctive free product feature, the company offers over 200 products that can span every market category. It also provides most of the FMCG category products at affordable prices. The company has generated a substantial profit of $9.5 billion (2015).
As of August 2022, Amway consists of 550K+ distributors from India where 60% of these distributors are women. Further, the firm's marketing ecosystem contains 2K+ employees and 34+ warehouses for distributor support and product deliveries.
3. RCM
"RCM" the name is synonymous with direct selling in India. It has a legacy of loyal consumers in every corner of the country. The main motive of this Company has always been to change the lives of people by giving them opportunities to empower them socially, equip them with relevant skills, and give them a chance to achieve financial independence, development, and joyful life.
RCM sells anything from FMCG to stationary, from computers and electronics to apparel, footwear, and plasticware. The fantastic thing about the Company is that it became a source of employment during the pandemic. People were able to buy goods without leaving their homes. Along with people's satisfaction, the business also made a lot of profits.
4. Mi Lifestyle
Established in 2013, Mi Lifestyle Marketing Global Private Limited is one of India's top 10 network marketing companies. With a wide range of agrocare, healthcare, homecare, and personal care products, Mi Lifestyle's revenue in 2022 is estimated to be more than Rs 916 Cr.
This popular MLM company has more than 200 products in its portfolio that cover practically every market category with special offers of free coupons. The company also offers a wide range of quality lifestyle items for daily use which are approved by the Ministry of AYUSH.
5. Herbalife
Herbalife is another famous direct selling company in India right now. Since 1980, it has been a leading provider of nutritional products that aided individuals in leading healthy lives. The unique factor Herbalife processes is that their products are not available in general stores.
Herbalife is a global nutrition firm operating in 90+ countries. You can join Herbalife and become an associate to get a minimum discount of 25% on each purchase. Moreover, associates receive considerable training and require no minimum purchases, startup fees, or sales tools to get started.
6. Oriflame
Oriflame is a Swedish beauty products manufacturer that has been operating in India for over 25 years. Jonas of Jochnick and Robert of Jochnick, as well as Bengt Hellsten, created Oriflame in Sweden in 1967. Oriflame is a beauty company with over 3 million brand partners globally, selling products in over 60 countries.
It has gained over INR 500 crores for the financial year 2022. Here, you will receive both business class and immediate benefits. Additionally, you can receive PD (Performance Discount) after reaching a specified level of sales.
7. Vestige
Vestige has made it to the top 10 direct selling companies in India, with millions of distributors spread all over India. With phenomenal sales, it sells quality personal and healthcare products.
Over 3000 sales outlets are spread across India, with a revenue of more than INR 500 crores for the financial year 2022.
Vestige offers profits through the direct selling of these products as well as through the performance of your distributors. It provides 5% to 11% as a cumulative performance bonus and 14% on business building and other funds per your network performance.
8. DXN
DXN provides unique products in the line of Ayurveda and health supplements, food and beverage, personal care, and cosmetics. It operates in over 180 nations with seven million-plus distributors and more than 1500 employees. The company's revenue in India is estimated to be between INR 100cr – 500cr for the financial year 2022.
DXN offers 15% to 25% as retail profit and 6% to 21% as group profit when you sign up as a member. The profits increase as you advance your position through sales. Nonetheless, DXN India prohibits selling through third-party websites such as Amazon, Flipkart, etc.
9. IMC
IMC, or "International Marketing Corporation." also known as IMC Business, started its journey in 2017 with its head office in Ludhiana, Punjab. It has established itself in India with thousands of staff and millions of customers. And is now broadening its horizons through its presence in various parts of the world.
This network marketing company sells products based on health, personal, and home care products. IMC originated the idea of AloeVeda to enlighten India's heritage. Based on this idea, IMC has developed innovative products to rebuild people's faith in the environment and its rejuvenating properties.
IMC has significantly improved the lives of thousands of people through years of unrelenting commitment and work, and it aspires to keep moving in this direction.
10. Forever Living
Forever Living is a relatively new direct selling company in India that trades health and beauty products. Its products help people to become entrepreneurs, create extra income, and receive exclusive discounts.
In addition, you will get opportunities to tour foreign lands, specialized training from industry leaders, and attractive bonuses.
This Company has been around for more than 40 years and has millions of distributors across 160 nations. The company's revenue in India is between INR 1cr – and 100cr for the financial year 2022.
Conclusion
Direct selling has been on the horizon and will undoubtedly continue to exist in 100 years!
This blog has enlisted 10 Direct Selling Companies intending to successfully educate its readers on which MLM company to choose. The firms mentioned above are ideal platforms to start an entrepreneurial journey for a wealthy and healthy existence. However, there are both legitimate and scams operating out there. Thus, choose attentively when you do!