The network marketing industry has grown exponentially in the last few years and it is not showing any signs of lagging. Experts are predicting more than half a trillion-dollar valuation for the MLM industry by the year 2025. One of the principal reasons for the industry to be thriving today is its adaptability to technology.
Multi-level marketing has generally adapted positively to all the technological changes happening around. Network marketers have been leveraging the latest technologies to expand their businesses for a long time now. Tools such as MLM software have significantly changed the whole network marketing business by optimizing business operations and simplifying the whole process.
To keep up with the competition and attract new customers to the business, it is essential for every direct seller to be updated about the latest tools in the Multi-level marketing business. Here we are going to have a look at the top direct marketing tools you must use in multi-level marketing to stay on top of your game. These direct marketing tools will help you empower your marketing, maintain better customer relationships, make better decisions, uncover new business opportunities, and plan ahead for the future.
So let's have a look at the top direct sales tools you must use in multi-level marketing.
List of Top Direct Marketing Tools You Must Use in MLM – Direct Sales Tools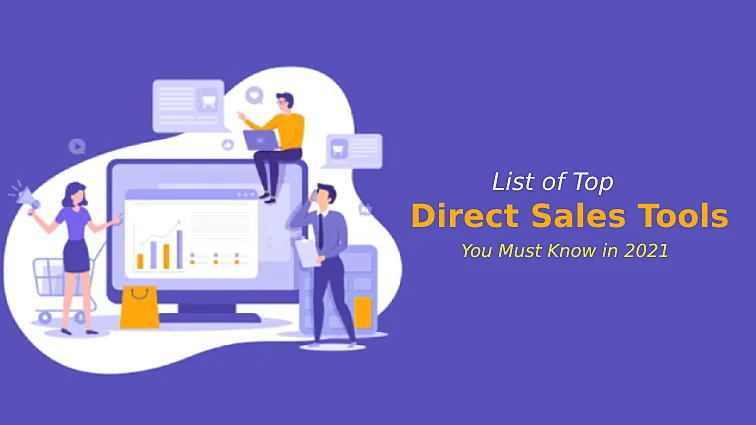 Marketing Outreach Tools
Marketing is the backbone of any MLM business. The success of an MLM company is largely dependent on recruiting new members to the network. And new members are attracted to the network using effective marketing tactics.
Marketing outreach tools are a set of direct marketing tools that can be used to market the products and services of the company. It will normally provide services such as social media marketing, email marketing, lead capture, campaign management, A/B testing, referral & affiliate system management, etc… Marketing suites are beneficial for network marketing companies and distributors alike. Companies can set marketing goals with targets, and monitor developments to make sure of effective participation by the distributors. And distributors can leverage the tools to reach out to more new potential customers.
Marketing outreach tools represent represents a shift from traditional marketing methods to the latest data-driven marketing. The insights received from marketing analytics help businesses make better decisions. It simplifies the fundamental ideas of network marketing and makes building the network more effortless.
BI Tools ( Business Intelligent Tools)
Business Intelligence (BI) tools help you make better decisions by analyzing your data. It is not practical to analyze all the aspects of your business manually. It would be laborious and time-consuming. An intelligent system can get this done for you easily. Business intelligence tools in MLM provides analytics that helps organizations to interpret their market on the basis of diverse parameters.
Companies deploying Intelligent business tools are found to be more productive and profitable. These tools give useful insights based on business performance with different KPIs, profitability statistics, revenue alerts, business sales flow, predictive analytics, etc…
Business intelligence tools can help you make data-driven conclusions and eliminate decisions based on random predictions. It lets you view a summarised representation of overall performances and results from the dashboard. B I tools produce detailed business planning and predictions using market data. It recognizes the best performers and leaders by examining distributor performance data. BI tools also recognize the low-performing domains of the company using a KPI analyzer.
Customer Relationship Management (CRM)
Building and maintaining proper relationships with your customers and team members is one of the most important things in the network marketing business. But it can be tiring to manually manage all your business relations. Especially in an MLM. This is where Customer Relationship Management (CRM) is useful. Using a CRM software is one of the best sales funneling methods in MLM.
A proper CRM system in MLM will help businesses to manage all their prospects in a single place. The system assists in organizing lead management, tracking customer activity, pipelining sales potential, identifying lead sources, etc…
Customer Relationship Management can unravel the whole process from prospecting to finishing a sale. It allows you to maintain contact with existing and potential customers through one system. CRM's can improve customer acquisition and retention and help attain an improved customer-centric strategy. It ensures minimal loss of customers with automatic reminders about appointments and follow-ups. Customer Relationship Management allows prioritization of various duties for distributors and enables quicker sales conversions.
Distributor Training Tools
A lot of the success any distributor enjoys in their MLM journey can be owed to the training they received. Training distributors is one of the most important things for any MLM company. The distributors should have in-depth knowledge of the products they sell, how to sell those products, and the company they represent. The training should also focus on the people skills and salesmanship of the distributors.
Distributor training tools assist MLM companies to train their distributors through learning management systems. Businesses can implement coaching using diverse training materials manageable from the back-end of the learning management system. Distributor training suits provide the distributors with in-depth knowledge of the products and services they are going to be selling.
Distributor training tools can help distributors learn the suitable approaches for marketing and sales. It can help distributors gain in-depth knowledge of the company, its products, and services. Companies can keep track of and evaluate the training of distributors. Distributor training tools improve the relationship between the distributor and the company and eliminate the need to organize orientation programs for new recruits every time. It eliminates the need to hire dedicated trainers for each session. And allows the usage of Pdf, slides, images, videos, and live classes for training. Distributors can also access their learning materials from anywhere, at any time.
Conclusion
These are the top direct sales tools you must use in multi-level marketing. Make good use of these direct sales tools to always stay on top of your network marketing business.