PHP MLM Software has always been the top pick since the network marketing industry has been integrated or made simpler with them! But have you ever thought, why?
Definitely, there may be a lot of reasons for both the software developed on PHP platform as well as the PHP language itself.
Well, that's the main topic which we are going to discuss here in this blog. It's not a detailed study, but we will cover up some of the main areas dealing with the same!
As mentioned above, there are certain things that makes the PHP programming language the most favorite for developing a backend for different softwares!
To know the reason read below.
Advantages of PHP Programming Language
Why you should specifically choose the MLM software based on the PHP platforms? They do have certain advantages over other programming languages.
Let us check below.
PHP supports cross platforms

PHP is a server-side scripting language that can be run on multiple platforms without any hassles. PHP codes can be run on almost all operating systems. Another addition to the point as above-mentioned is that hosting service providers for PHP based services can be easily found over the internet!

Speed

A very important thing that you have to consider while developing a custom application is its response time. Speed is a quotient that determines the user-friendliness of your MLM software.
A quick loading website or software application will be always appreciated and more and more customers will definitely choose your services compared to others!

Highly Stable

The PHP programming language is a highly stable one when compared to its counterparts. It was developed almost twenty-five years ago and hence a lot of addition and corrections have been made to the programming language. A lot of bugs were found and fixed during its course of travel. So it's far stable and perfect for supporting a lot of features.

Its Open Source and Have a Powerful Library Support

PHP language is an open source programming language, that means anyone who is experienced in the language can make the necessary additions, can enhance its library functions, etc. Some of the exciting functionalities supported by the language include Graphics, PDF, etc.
Why to choose PHP MLM Software?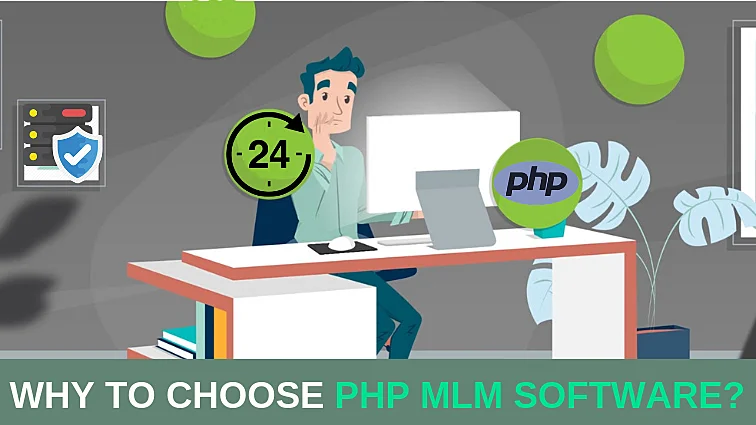 Well, before getting into the reasons for choosing a PHP MLM software, it would be better to write down a famous quote found somewhere, and it goes like this:
"Cutting edge technology helps you to stay ahead of the competition."
The above given quote alone showcases the importance of choosing the latest and advanced technologies to stand apart in your business. There are a lot more reasons for choosing PHP based MLM software, which are mentioned below.
A perfect Handy Solution to Run Your Business

A PHP based MLM software helps to choose the best packages according to your budget constraints. If it's a corporate-like company, then there will be a list of high-end features at really competitive prices.

Try out a free MLM Software Demo and you can get the real feel of the same!

Quick and In-time Delivery

A network marketing software will be providing you all the necessary and effective tools so that it makes it easy to deliver your products and services at a much faster rate as compared to the traditional approach.

Round the Clock Services

An online approach of the network marketing software makes it sure that your customers can approach you whenever they feel. Since its online round the clock, the customers can buy the different MLM products offered by your company.

Safe and Secure Storing of Databases

A well built MLM software makes it sure that all the records they have to deal during their direct selling business are stored safely and securely. It should be developed on the latest technological advancements so that it makes the data secure all the time.

Saves Money and Time

An MLM software makes the overall process of managing your direct selling business easy with saving a lot of time and money as well! It has been found out that implementing PHP based MLM software saves the running cost up to 50 percent. Isn't that really interesting?

Flexible, Scalable and Entirely Reliable

The PHP MLM software built nowadays is highly flexible, scalable, and reliable.
These are the major qualities that anyone would look after so that it can be altered in the future according to the varying requirements of the direct selling companies.

So this adds as another reason to opt a PHP based MLM software so that you can run your business smoothly and efficiently.
Final Verdict
PHP is one of the most sought after programming languages for developing various applications.
It is basically used to develop the back end applications which support some brilliant front-end software products.
We have mentioned above the positive aspects of owning a product developed based on PHP based frameworks. So choose a perfect PHP MLM software for your network marketing business. It will be helping you to execute your ideas related to the network marketing business ideally.