In this writing, you will be able to find whether Sou Sou is a Legit saving scheme and a complete guide regarding the susu money scheme. This company assists you with a good saving scheme by enabling all your known ones to join this scheme.
Do you like to save your hard-earned money? Then here you need to know about sou sou scheme scheme that will assist you to effectively save your money. It is quite common that you will look for a legit investment scheme before investing your money into any saving scheme.
To go ahead with any investment plan, you need to analyze your current financial situation as it assists you to determine whether you will be able to make up your mind. Most of them are not very clear on how to save their money or where to invest so that the investment provides a lucrative outcome or a high return on investment. So people always search for exciting investment plans to start with their investment and one such exciting HYIP (high yield investment program) is Sou-Sou saving scheme.
Let us look down to know more about this saving scheme and it provides you an idea of whether SouSou is a legit savings scheme.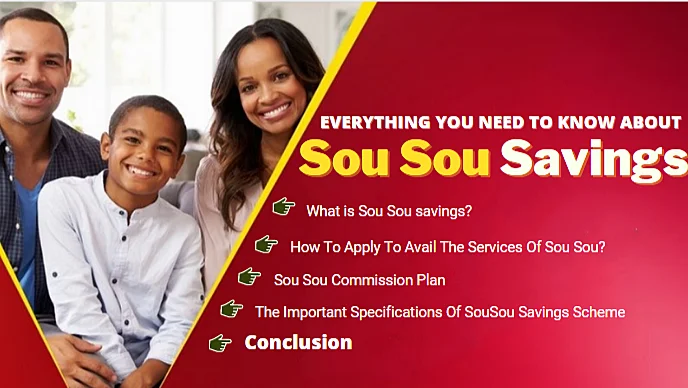 What is Sou Sou savings?
Sou Sou is a US-based company and it offers an amazing saving scheme for its customers to plan their investment and provides a high return on investment. It uses a cloud-based application which is licensed through white-labeled API.
SouSou savings scheme is a kind of rotating gifting process, where all the participants go through 4 different positions of the scheme and each member needs to make another two members join the scheme. All these members contribute a certain amount of gift money once during the gifting period.
The total contribution will be received as a gift payout to one of the group members each month. The recipient of the gift payout will be rotated each month and it is ensured that each of the members receives the total contributed amount in a rotating fashion before the scheme ends.
How To Apply To Avail The Services Of Sou Sou Flower Money Scheme
Customers can apply to make use of this scheme via their online portal. They can use either their mobile phones or personal system to access this online portal. In this scheme, customers will be able to engage their family members or friends to invest their money.
SuSu Money scheme prompts you to deposit a specific amount of money within the specified time ( either monthly or weekly or bi-weekly) into their account. It is like a rotating club, where all the customers or the created group of customers deposit a certain amount of money within the specified time or monthly and it builds the total fund required as per the plan. Then periodically the amount will be distributed to any single person from the group. In this way, it allows all the customers to get a chance to earn the total fund each month or as per the timeline.
Sou Sou Commission Plan
This Susu scheme follows two different models named
SuSu A: Flower Model
SuSu B: Diamond Model
Both the models follow the same commission plan where the only difference is with the joining gift fee. The joining fee for the SuSu Flower Model A is $500, the payout gift for each month is $4000, and the member positions are represented with elements whereas in SuSu B: Diamond model, the joining fee is $100, the payout gift for each month is $800 and the member positions are represented with colors.
Let us look into the two models and the commission structure to understand both the models.
#1. SuSu A: Sou Sou Flower Model
Here there 4 four elements named:
1. Fire-8 positions
2. Air-4 positions
3. Earth-2 positions
4. Water-1 position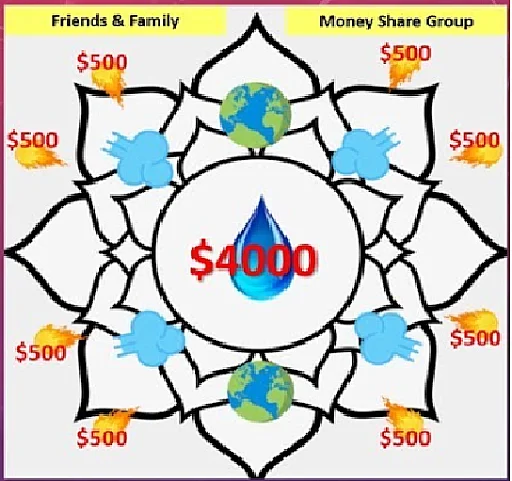 Image Credits: Google
By referring the above mentioned sou-sou flower chart, you can see that, In the sou sou Flower model commission structure, Fire position is the entry position where there will be 8 positions and they need to pay $500 as a gift to the water position. The person who reaches the water position will gain $4000 from 8 fire members of each $500.
The person who reaches the water position would have joined this model 4 weeks before and would have started from a fire position by making two other members join this scheme with their gift money of $500 each. The two members can be either from family or friends circle. These two members, in turn, can ask their friends or family members to join with $500 each.
This continues and the next week the person who joined in the fire position will move to Air position and then the next week the member will be moved to Earth position and then to Water position. When the person reaches a water position in the 4th week, he gains $ 500 from each member at 8 fire positions and gains $4000.
Then the person who gained $4000 will keep $3500 and will again go back to the fire position and donate $500 to the person who reached the water position. This cycle continues until the scheme period. When the member goes back to the fire position from the water position, the person need not pay an additional $500 as a joining fee.
#2. SuSu B: Diamond Model
Here the only difference is joining fee i.e $100 and the gift payout i.e $800 and the elements are replaced by colors.
1. Red
2. Turquois
3. Green
4. Blue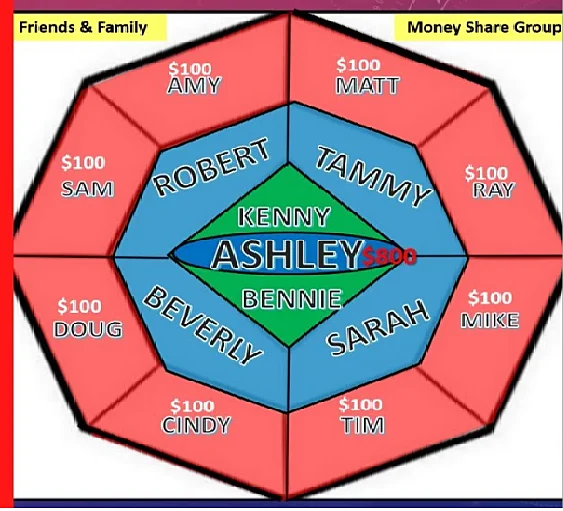 Image Credits: Google
In the Diamond model commission structure, Red is the initial position like Fire position in the flower model and Blue is the final position like Water position in the sousou flower model and the process remains the same.
The Important Specifications Of SuSu Flower Savings Scheme
Look into the important specifications of Sou Sou scheme:
The company is enriched with long years of experience in this online business scheme.
They have designed a perfect online platform to accomplish this scheme in order to solve the financial crisis.
It connects with established financial organizations and offers social banking solutions.
It is completely on a secure platform and ensures the safety of all the customer's accounts.
It attracts high sales opportunities with a lower rate of interest.
Is a susu a pyramid scheme? – Customer's Suggestion Regarding Sou Sou Scheme?
The company is trying to collaborate with other companies and it has expanded its business due to its dedication towards this savings scheme. Many middle-class customers had been benefited out of this savings scheme. Many customers have posted positive feedback regarding this scheme on various social media channels. Many positive reviews are overflowing stating that they have succeeded in saving their hard-earned money.
The customers are really excited that the company is expanding and they will be able to save more money for their future purpose. Saving money is really challenging and Sou Sou customers are able to move ahead with this challenge by making changes in their daily routine. Customers have also shared many videos and articles regarding their experience with the Sou Sou scheme.
Conclusion
You can go and try with this scheme as there is no negative feedback and it seems to be a legit savings scheme. Customers are very much excited that they are able to make a good amount of saving with this scheme. Customers are also trying to engage this scheme with family and friend's circle.
As many schemes are sprouting up daily in the name of the Sou Sou saving scheme, you need to be aware of such Ponzi schemes by analyzing and collecting more and more information on any savings scheme before investing your money.
Meet The Author