It is always unpleasant to have objections. Having to hear objections from your prospects when you pitch your products and business to them can be quite discouraging. You will hear some of the common rants and a few new ones that will lead to a meddled opinion in your head regarding Multi level marketing. However, if you are able to clear out the confusion out of your customer's head and overcome their objections, you are one step closer to bagging another business deal in your network marketing career. If you are beginning your network marketing career, facing objections can be quite terrifying for you. However, if you face a 'no' from them,.you get up and start again the next day with your next network marketing contact. Don't ever let the any objections you receive frighten you from going out there and getting successful.
Learn more about MLM Software for you successful business growth
The people you communicate regarding your business may respond in a variety of different ways. They may ask questions, pass random comments, and make very blunt objections. You can start tackling by remembering the following: • keep your ears open for what your prospect has to say. • Ask questions. • Relate everything you say to product that you have to sell. • Tell a few success story. • Solve their problems. Here are a few network marketing objections you may face and tips to overcome network marketing objections. We shall see the MLM objection crusher on how you can handle these objections.
1. Objection : " I don't have time."
This objection arises from the fact that a person already has a full day job and has no time to try something new as part time career. Your first answer to them should be to let them understand that there are many people who do MLM as a part-time job around their busy days. You should defer to show them how they can fit in MLM with what they already do, and ask if they are interested to hear more about that. Tell your potential client that it is worth trading some of their valuable spare time for something that can provide them with a generous income for life. May be they can fit some extra time into their schedule for it? You could also provide such clients with a feasible solution to manage their time problems. You can tell them how the MLM venture can actually take up less time in the future once the business has built up, so that they have more time to do what they enjoy. Another resourceful tactic is to question them that if they continue doing their present job, will they have more time later, say five years, or will they have less time? The most probable answer is that they will have less time. But if they try their hand at MLM opportunity, the goal is to have more time in the future. There is also the notion about you working hard to achieve someone else's dreams (more specifically, your boss's dream), but if you follow a new path on MLM, you can work toward your own dreams instead.
Answer : " Do you want to put in a lot of effort for humongous hours and make your boss a more richer ? Or do you want to work for yourself and retire at 40, with a huge sum in your bank account? If you are into the latter, let me know! I will guide you through the procedures."
2. Objection : "I don't have money."
This objection is for handling skeptical prospects for your MLM network. You may come across many people who are interested in your business, but they're concerned because they don't have the sufficient money to join the business. In such a situation, you need to tell them that when you had begun your career, you also didn't have the money but you saw a life-changing opportunity then and there and you took the plunge and saw an opportunity for your success and you decided to do it anyways. You may also help them with showing them how to get the cash to get started with the business. Let them know that you can tell them more about sourcing funds. Perhaps they can start by selling their starter kit, or get the company to offer low cost financing options. Perhaps they can cut back on their other expenses, or borrow money from friends and family. You may also know more about why they can't afford to take this business opportunity? By doing so, you can differentiate between people who are genuinely interested in your business opportunity but not having the cash to get started from those who are not interested in your business and are just brushing it off by saying that they do not have the money to get started with the business. Another useful tactic is to bring up something that they mentioned earlier on. Perhaps they had earlier said something about being worried about not earning enough money to fund their children's college fees, or that they needed a bit more money for early retirement or going on that dream vacation. You can let them know that you are introducing them to create a new form of cash in flow, without undergoing a major change on what they are currently doing. This will eventually bring them around to earn enough money to do all those things that they have been dreaming. The key is to address each and every objection of theirs with a question, which has the positive effect of making think inward and reflecting on the current situation. This way, you won't have to defend your business venture.
Answer : We will find out funds to help you out!. You can get the initial money by selling the starter kit that I will give you upon joining the business. Else, our company provides amazing options for finance with low interests. The other day you were telling me about your plans for retiring early. I am helping you find an alternative source of cash flow in here to get you there! Now look at me! I too did not have any idea how I was about to send Andy to college a couple of years back. This business has made me financially sound to keep the educational loans off my kid's neck. I know the kind of situation you are in and I just want to help you out.
3. Objection : " Is it Pyramid scheme?"
Many people are really scared of being lured into a pyramid scheme because they hear things about people losing all their hard earned money in scams or certain business ventures being illegal in their country. You need to let them know that you are working with a legitimate company that has its presence in many countries around the globe. You can point out any famous people who have actively promoted the business and its products. Mention other famous business people in the world who are now millionaires due to trying their luck in MLM marketing: Donald Trump, Warren Buffett, and Richard Branson are a few names that you can casually slip in the conversation. This type of marketing has worked wonders for them. If your client is majorly concerned because they have a friend who has lost money with it, ask them about it. Chances are that it may have nothing to do with your company, so it could potentially be something completely different they're afraid of.. You can also acknowledge their friend's situation, and ask why their friend lost money at it. You can tell them the difference between a pyramid scheme and MLM. Tell your prospect to google it and see if your company is a part of a scam.
Learn the difference between MLM and Pyramid Scheme
4. Objection :"Products are too expensive."
One of the most common objection with directly selling products is that they are too pricey. Usually, your clients will be making comparisons with other similar products, rather than what you are actually trying to sell to them. The prime thing is to find out if you two are talking about the same product. If they are talking about a product they can buy from any big box store, question them if the difference between features and the value of the product is important to them. You can also mention that you are offering it at wholesale cost to them and that is not something they would get in a store. And tell them that there will also be rewards if they are willing to offer to share your product with their friends and relatives. At that rate, the cost will be completely diffused very soon.
Answer: My products are top quality ones and endorsed by celebrities. You can see the product for yourself. The features are extremely rich and the quality is very good. You can even compensate for the high costs by referring your friends and family and earn handsome rewards for it."
5. Objection :" I have to think about it."
This is one of the most common MLM network marketing objections that you will have to face, and it can occur after you have pitched your product to them. You can counteract this particular objection by asking if they still have any questions about any of the products or the business as a whole. Perhaps your potential business prospect needs more clarification to help them figure out if your proposition is the right opportunity for them. You may also suggest that the best way to determine if this offer is for them or not is to try their hand at it for a while. You may offer them an opportunity to do a mock test first without any risk.
Answer : " Incase of any doubts regarding the products, you can call me right away. Any questions regarding the business, or any other thing for that matter,we can talk about it. You can try out the products and see of you find it interesting."
This infographic helps to brief the tips to overcome network marketing objections;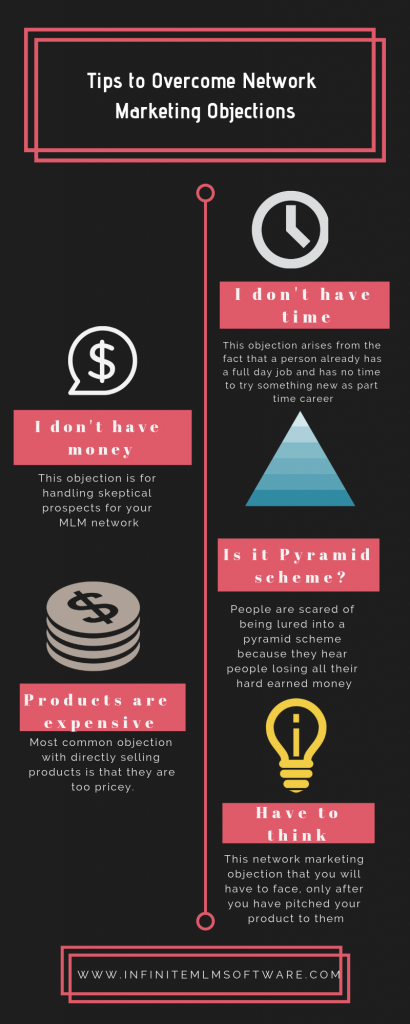 Conclusion
In this blog, we have discussed few of the most commonly raised objections that a network marketer has to face in MLM business and how to tackle them. Get mastering objections in Network Marketing and build your team. If you have got any other objections from your experience, tell us how you tacked them. If you are looking for an affordable MLM software, Check out
MLM Software Demo
and contact us today! Recommended Read:
Top 15 Inspirational Network Marketing Quotes