Jeunesse Global is one of the leading manufacturers and distributors of skincare products, cosmetics, and health supplements (which they claim as 100% natural).
Jeunesse Global name their products in a really interesting way. Some examples include products like "Finiti", "Nevo" and "M1nd" (It's "1" and not "I"), "Luminesce Cellular Rejuvenation Serum"!
Doesn't that sound really interesting?
This Jeunesse Global MLM review intends to find out whether Jeunesse Global Corporate is an opportunity or not?
Jeunesse Review is an essential piece of advice for individuals who are involved with the company or have a strong wish to enter it.

What is Jeunesse Global?


Jeunesse Global is a US-based MLM company headquartered in Lake Mary, Florida. Founded in 2009, the company is known worldwide for skincare goods, cosmetics, and natural health supplements.
The skin creams, nutritional supplements, and energy drinks of Jeunesse Global are widely popular and helped the company amass a revenue of over 3 billion dollars within their first 7 years in business.
The company has also received multiple Stevie Awards, Direct Selling News Awards, and MarCom Awards for business excellence and creativity in marketing.
When Did Jeunesse Start?
Jeunesse Global was started out in the year 2009 in Lake Mary, Florida in the United States of America. They are one of the MLM companies that we have today across the globe.
Some of their specialties include really attractive products which are packed in impressive covers. They also provide some glitzy promotional materials with motivational stories from their successful distributors.
According to the data collected from the Jeunesse global website and various other sources, it has been found that they have a wide network of over half a million independent customer agents with a customer base in more than 80 countries! They like to call their independent distributors "Generation Young".
Also, they have a really impressive sales revenue, which was almost $3 billion, and that too within their first seven years in the network marketing sector!
Moreover, they have also acquired 79 Stevie Awards, 17 Direct selling News Awards, and 29 MarCom Awards.
Jeunesse Global Products
Jeunesse Global is a skincare mlm company that offers a wide variety of anti-aging skincare products, and dietary supplements. The brand aims to help its customers look younger and feel better.
Jeunesse Global's skincare products include peels, overnight serums, face masks, and eye creams designed to minimize lines and wrinkles. These products are available in the market under the brand names Instantly Ageless, Luminesce, NV, Naara, and RVL.
The most popular products of Jeunesse Global are Instantly Ageless Facelift in a Box, Luminesce Cellular Rejuvenation Serum, Luminesce Daily Moisturizing Complex, and Luminesce Advanced Night Repair.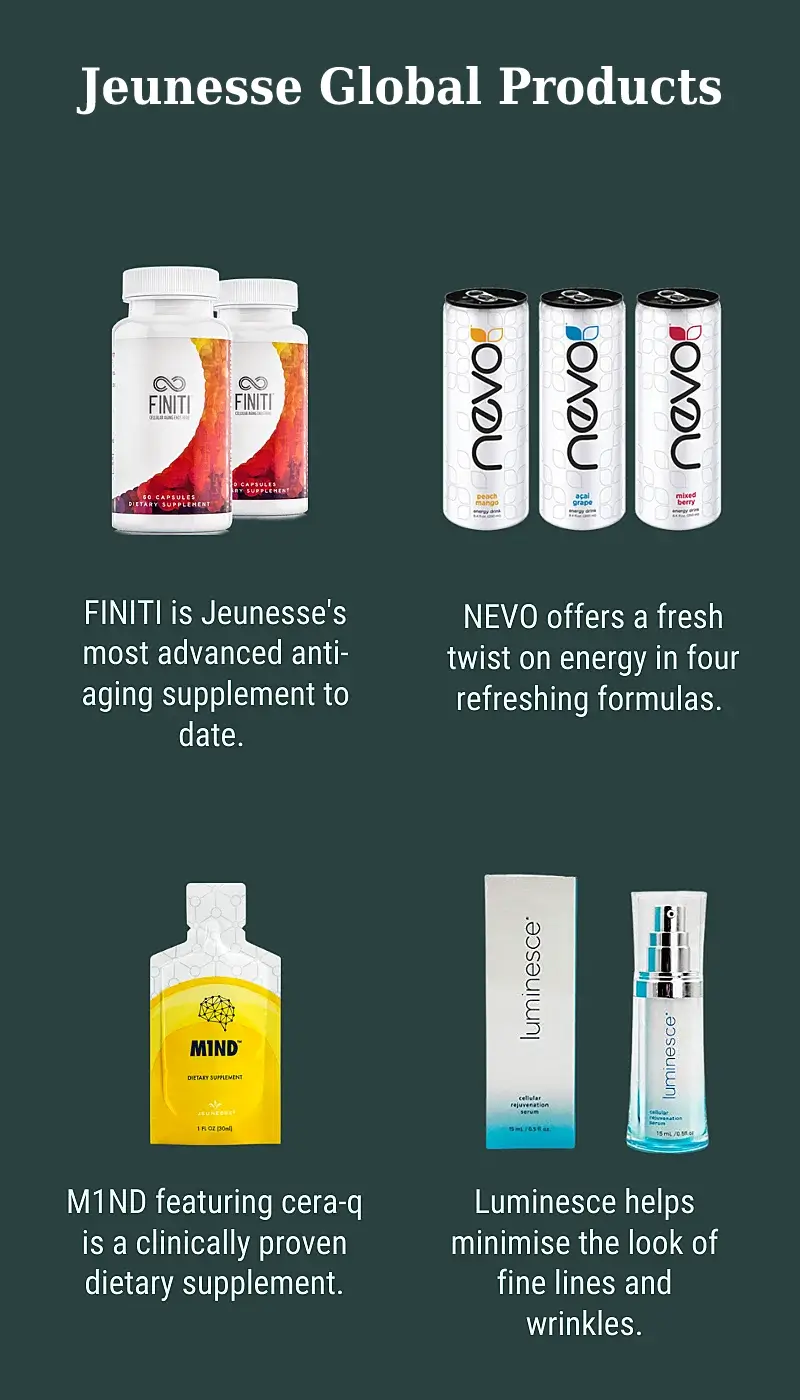 Jeunesse MLM Review – Is it Legit or Another MLM Scam?
Let's see more about Jeunesse MLM Company & find out whether this Business Opportunity is legit or a scam?
Are Jeunesse Products Any Good?
Jeunesse Global products are found to be genuine from the first information that we have collected from different areas. The major Jeunesse products they deal with are skincare, cosmetics, energy drinks, and healthcare supplements.
There have also been some issues regarding the Jeunesse Global products. For instance, Truth In Advertising (TINA), a leading watchdog group, has found out that a lot of unsubstantiated health claims were made by their independent marketing personnel in order to sell maximum products and thus to make a huge profit.
TINA has sent Jeunesse Global a letter regarding the same. It was actually a warning letter indicating that they would alert the FTC if they still make those false claims.
Actually, the company cannot be blamed for this, since it may be happening without their knowledge, but they should strictly warn their distributors to not follow such ingenuine methods.
Jeunesse Global MLM Ranking
Jeunesse Global is ranked among the top 15 companies of DSA's global ranking in the years till 2020. Direct Selling Association (DSA) annually releases the list of top-performing MLM companies in terms of revenue generated by them.
Ever since Jeunesse joined DSA they are ranked among the top-performing companies as listed by DSA.
Jeunesse has acknowledged such recognition and addressed it as follows :
"What a tremendous honour it is to have ranked among the top 15 direct selling companies on the DSN Global 100 for a third time and to have ranked as No. 14 on the 2020 list," said Jeunesse Chief Visionary Officer Scott Lewis. "Our sincerest congratulations go to our entire Jeunesse Family around the world. We are truly grateful for their passionate dedication to our mission and the hard work they put in each day to expand the Jeunesse brand across the globe."
Well, we will discuss the pros and cons of the jeunesse company in detail in the next section.
PROS and CONS of Jeunesse MLM Company
PROS
They have made their name to the Inc. 500/5000 list of America's fastest-growing MLM companies. And this is a really great achievement because they have been in the business for only a decade now! Almost majority of the MLM companies in the field fall down within a span of just five years. So this is some worth mentioning out here.
They have more than half a million independent distributors spread across over 80 countries around the world. Also, they have been awarded multiple times for their overall business excellence.
The compensation Plan developed by the Jeunesse global company is really interesting. There are six different ways through which you can earn money through their payout plans!
They offer a wide variety of products in the health and wellness sector, which have a huge demand in the consumer market. So it will be a source of residual income for you.
CONS
The Jeunesse products sold by them are almost available in the market in the name of other manufacturers, which are also a little cheaper compared to the products of Jeunesse Global.
Even though the Jeunesse MLM company is well established, there are a lot of negative reviews about the firm and its products across the Internet. So it might affect your business development since the customers do not find it worth buying.
Jeunesse Global gives more importance to recruiting new members other than selling some of their actual jeunesse products, which is something you should really take care of. And this has already made FTC have a watch on the company.
Is Jeunesse Global a Pyramid Scheme?
There have been many accusations and lawsuits against Jeunesse Global, claiming that the company is a pyramid scheme. However Jeunesse Global is technically not a pyramid scheme as it has legitimate products and it is possible for members to make money just by selling products and not recruiting new members. But it is difficult to make significant income from just product sales.
Cost to join Jeunesse Global?
To join the Jeunesse Global network, you will have to initially purchase a starter pack that costs from $29.95 to $49.95.
You will also be urged to purchase product packs that cost from $199.95 to $2,299.95.
You are required to sell 60 PV points every month to remain active and will be urged to buy a "monthly auto-ship" for 60 PV.
Compensation Plan of Jeunesse MLM Company
The compensation plan followed by Jeunesse Global company is basically a Binary MLM Plan.
The entry fee to be a registered member of the Jeunesse Global company is $29.95. And with being just a member, you will be eligible to sell their products at the retail price, whereas you would be getting in at wholesale prices. And that would generate a profit percentage for you. This kind of income earned is called Residual Income.
To become an official distributor, you have to purchase or sell products worth 100 points, and which is equal to 250 US Dollars. Normally the new distributors will be forced to invest at least $1200 to start out with higher packages.
The Basic Startup Package is $1200, as we have just mentioned above. And you will be required to sponsor people on both sides of your tree (since it follows a Binary Tree Structure) to gain commissions.
You will be required to maintain at least a Group Volume (GV) of 600 at the left leg and also 300 GV in the right leg in order to earn "Cycle Bonus" or "Team Commission". Or, it can be simply explained as, if you recruit more people under you, then you will be earning certain points for the purchase they make. And these points will carry a certain amount of Commissionable Volume (CV) value.
We can note that the Commissionable Volume (CV) ratio set is not 1:1, and which implies that 1 point equals only $2 or more. And this pattern can be found by many network marketing companies. And this implies that the commission you earn will be really small or else you will be having to work really really hard. And that's not possible for everyone out there.
It can be simply explained as follows: Let us take the same example of the Cycle Bonus explained just above. The combined total volume of your group should be at least 900, i.e., 600 + 300 from both legs. And this 900 Gv equals almost $1500 worth the products. The commission you will be acquiring from this would be just $35. The amount that you generated as the commission is only 2.3 % commission of the total sales generated. So having a clear understanding of the compensation plan is very much necessary, if you plan to join any MLM firm!
The training materials provided by Jeunesse Global tell that you can earn a good amount as commissions itself if you work really hard. In theory, they would be wrongly misguiding you that you can earn up to $26,250 per week as Cycle Bonus Commission alone.
It's very easy to tell through the papers. But the real scenario is very much different. Jeunesse Global claims that there are six different ways to earn through their MLM compensation plans. And they are as follows:
Retail Sales
New Customer Acquisition Bonuses
Team Commissions
Leadership Matching Bonuses
Customer Acquisition Incentives
Leadership Bonus Pool
Getting in detail into the topics mentioned above will make you people get bored. So we will discuss some of the things which will be easy for everyone to understand.
It will be really better if know the differences between Commissionable Volume and Personal Volume. There are also other things like Group Volume, Spillover Volume, and Personal Group Volume. And to qualify for the above-mentioned bonuses and commissions, you have to fulfill certain requirements.
It's the same equation for every MLM business,
More product sales = More profit!
Conclusion
Hope you got a crystal clear idea about Jeunesse Global MLM Review. Jeunesse Global is a well-established network marketing company which have business all over the world. But, what you people need to understand is that they give more focus on recruiting new people than on concentrating on selling their products, which is really a bit risky.
Their products are of good quality-wise, and if you are ready to sweat it out, you can make some good income.
The call is all yours!