We are delighted to announce the Infinite MLM Software release version V11.0 after the successful accomplishment of Infinite MLM Software version V10.0
Check out the features included in Infinite MLM Software v10.0
The great success of the previous version 10.0 made to lead the development of the new version 11.0 with new and innovative features to satisfy the changing requirements of the user.
Infinite MLM Software version release V11.0 is developed by passionate developers with the help of high-end technologies to implement the exciting features. In this article, you will be able to find the new features of the recent version V11.0.
Read more on MLM Version History details.
Below are some of the important features of Infinite MLM Software version release V11.0.
Features of Infinite MLM Software Version 11.0
1. New reports are added in the user module of the MLM software
Now the users will also be able to view the following reports.
Sales Report

Users will be able to view the sales report for a certain period by selecting the package as register or purchase. Product-wise sales report for both the packages can also be viewed by the user.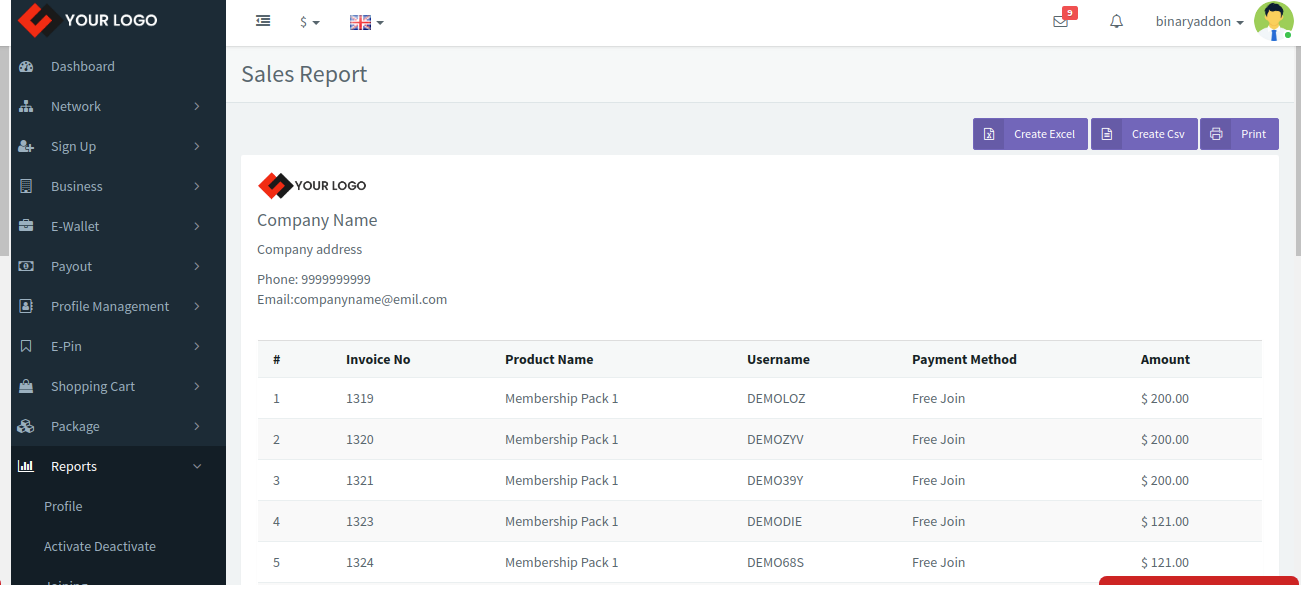 Image: Sales Report
Commission Report

The user will be able to view the various reports for commissions such as referral commission, rank commission, level commission, binary commission, and much more. The user needs to enter the username, the time period (From Date & To Date), need to choose the commission type to view the report of the earned commission.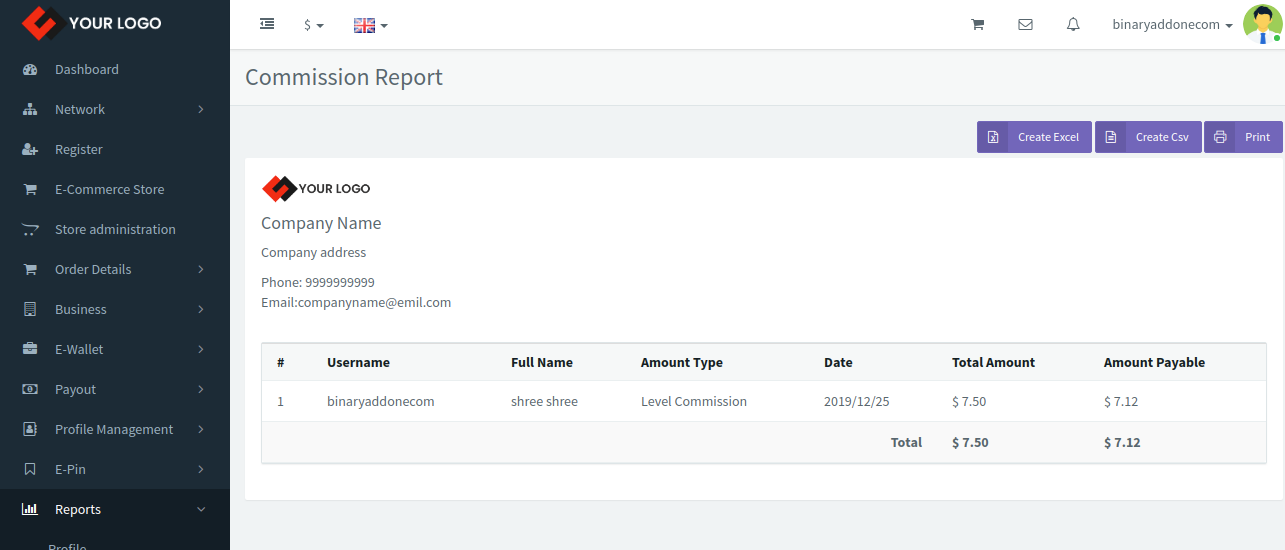 Image: Commission Report
Payout Released Report

The user will be able to view the payout released report on certain release date or during a certain time period (by specifying "from date" and "to date") and will also be able to view the payout pending report during a certain time period(by specifying "from date" and "to date").

Image: Payout Released Report

2. Advanced Level Commission Based on Genealogy Level and Package.

Admin will be able to configure level commission based on the genealogy level and package.

Admin needs to enter the type of commission, level commission criteria such as whether it is based on genealogy or package, and the level up to which the commission is offered. Admin can also set the commission at those levels.

Image: Advanced Level Commissions

3. Advanced Rank Configuration- Includes Downline Rank, Calculation Period, etc.

Now admin will be able to set the rank based on the rank criteria such as downline rank, referral count, Personal PV, Group PV and much more. The rank calculation period also can be set to calculate the rank. The rank can be calculated on a daily/weekly/monthly/yearly/instant basis.

Admin will be able to add a new rank with Rank name, Referral Count, Rank commission, Rank Color, etc and the same can be edited/ activated or inactivated

Image: Advanced Rank Configuration

4. Option to Customize Signup Form Fields

The signup form can be customized as per the client requirements when compared to the previous version of Infinite MLM software version V10.0.

Image: Customize Signup

5. Package Overview & Rank Overview in the User Dashboard

In this recent version, the user will be able to view the package and the rank overview of the team in the user dashboard. It gives a detailed picture of the team performance.

Image: Package Overview

Image: Rank Overview

6. Binary Bonus – Advanced Configuration Based on Criteria, Period, 1:1 / 2:1 Pair Type

The binary bonus is configured by the admin using the advanced settings like selecting the calculation criteria (Binary commission based on sales volume or sales price). The commission can be calculated on a daily/weekly/monthly/yearly/instant basis. The Admin will also be allowed to choose the pair type (1:1/ 2:1 or1:2) of the binary commission to be configured.

Image: Binary Bonus

7. Advanced Matching Bonus with Configurable Level and Criteria

Matching bonus can be configured by the Admin with the advanced configuration like selecting the Matching Bonus criteria (matching bonus based on genealogy/member package) from the dropdown menu. Admin will be enabled to enter the level up to which the bonus can be offered.

Image: Advanced Matching Bonus with configurable level

8. New Repurchase Sales Commission – Level Based

Admin can configure the repurchase sales commission by selecting the Sales commission criteria (Sales Commission based on sales volume/sales price), Sales commission distribution(Distribution based on genealogy level/ Upline package/rank) from the dropdown menu and by entering the distribution level up to which the distribution can be offered. Admin will be allowed to also configure the distribution based on the genealogy level by entering the distribution percentage at each level.

Image: Repurchase Sales Commission

Image: Distribution Based On Upline Package

9. New User Dashboard Design

The user module dashboard is updated with its new design structure in the recent version V11.0 for the simple and easy user interface.

Image: User Dashboard Design

10. Genealogy Tree New Design with Expanding Option

The new design of the genealogy tree is implemented in the recent version V11.0 for both the admin and the user to expand the tree to know the complete details about the downline and upline structure of the tree.

Image: Genealogy Tree with expanding option

11. Bulk User Registration/Migration using Excel Sheets

Admin is enabled to perform the bulk registration of the users during the sign-up process by uploading the user data in the excel sheet and registering the respective users.

Image: Bulk user registration

12. E-wallet Balance Report

Admin will be able to view the E-wallet balance of the specified user in the recent version V11.0

Image: E-wallet Balance Report

13. Business Summary and Business Transaction Report of the system

The recent version V11.0 will enable the admin to view the summary of all business-related transactions and the business transactions related to any specified user of the system.

Image: Business Summary

Image: Business Transactions

14. Next Rank Criteria Design

In the user dashboard of the recent version V11.0, the user will be able to view the criteria need to be met by the user to achieve the next rank.

Image: Next Rank Criteria Design

15. Two Factor Authentication(2FA) using Google Authenticator App

Two-factor authentication is used in the recent version V11.0 to add the rigid secure layer with the two-step verification process. This is achieved by using the google authenticator app which will generate the code or OTP for the users on their smartphones. Apart from entering the username and password, the user needs to enter the code generated in their smartphone to login into the application.

Image: Two Factor Authentication(2FA)

16. API Token Configuration Option (for publicly available APIs)

The users will be allowed to use our available API by using the secure key generated by the Admin for the specified users in the user dashboards.

Image: API Token Configuration

Sign up using our MLM System via API Integrations using advanced security and customization.

Read more on API Integration in MLM Software

Conclusion

The above features are added to the Infinite MLM software version V11.0. These exclusive features of the recent version V11.0 make the MLM software more innovative and will provide a great user experience.

Read more on our Infinite MLM Software Version Release

Try the Free MLM Software demo of the latest version for a better understanding of our MLM software.

Related Post