In this blog, we shall discuss all about Bizmo and what are the earning prospects with this new age info website that gives life hacks to people around the world.
What is Bizmo?
"Bizmo is the project of Berlin based company, Global Solutions Systems (GSS) owned by Tomas Kluenner."
. Bizmo is a platform in which people get information and guidance on a broad spectrum of subjects. The community is very active and regularly posts an array of extremely useful and entertaining content like lifehack videos, images, blog posts among many things else. The user can have access to these posts and are benefited greatly from the website. Bizmo World market access to a "lifehack" app.
| | |
| --- | --- |
| Type: | Private |
| Industry: | Network Marketing |
| Founded: | 2014 |
| Founder: | Global solutions Systems |
| Area served: | Worldwide |
| Website: | www.bizmo.world |
The Bizmo World lifehack app provides daily lifehacks for the categories listed below:
Technical, Digital and Gaming
Health, Sports and Wellness
Eating, Drinking and Cooking
Arts, Music and Culture
Travel, Outdoor and Inspiration
Beauty, fashion and Lifestyle
Love, Success and Money
Pets, Gardening and Green Life
Family, Living and Do-It-Yourself (DIY)
Users can vote for the best apps shown daily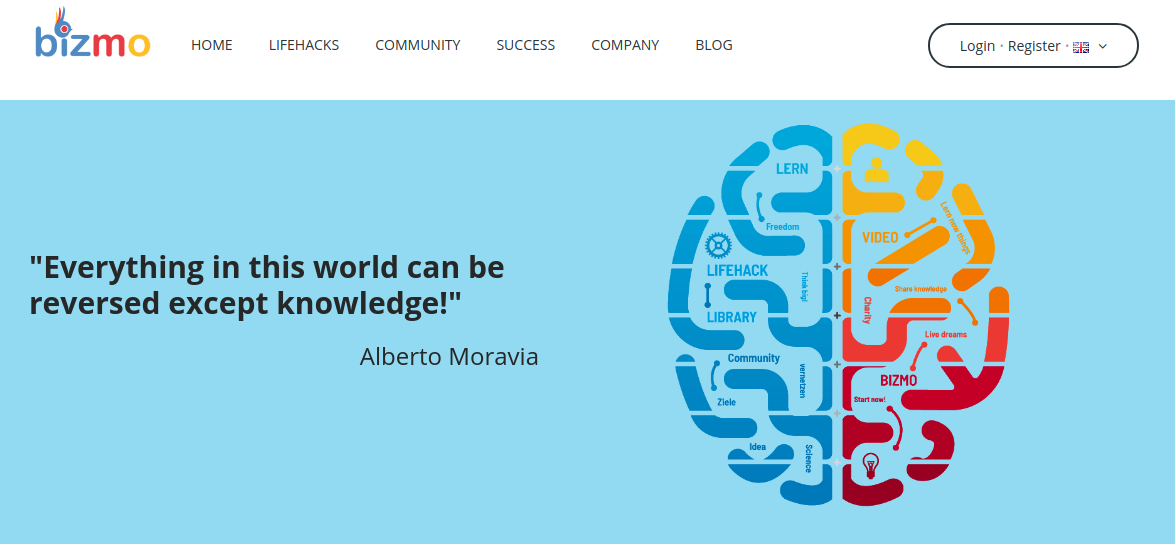 The users have to avail a membership to be a part of the network. They can choose to be a basic, pro or elite member and pay monthly fee of 10, 20 and 30 € respectively. 70% of the money collected from the paid memberships are distributed back to the users with the downline, just like the age old network marketing business and affiliate marketing business.
The Bizmo World Compensation Plan
The commissions are distributed according to rules provided by the Dynamic Matrix System (DMS) which indicates a unique compensation plan in network marketing.
Compensation plans
define how much money will the marketers make from a particular network. Conventional network marketing networks would pay only the top members a huge fortune while members in the lower part manage to just earn their livelihood or even less. Bizmo World have been using a robust MLM backoffice, also Infinite MLM build the best backoffice MLM Software for MLM companies worldwide. However, in a community that creates and shares digital content, the full potential of network marketing coupled with the latest internet technologies can be utilised to the full potential. This ensures possibilities of maximum earnings and you would just be making it by pursuing your hobby! This would never seem like work, in the first place. You can lie on a beach, sit on a cafe in the street and take pictures of your surroundings, upload on Bizmo and earn some good cash! Is there a better career option? No chance so, don't wait for too long, sign up on Bizmo! Start your successful MLM Business with Best
MLM Software
. Read more
MLM reviews