Infinite MLM Software Version 10.0 Released!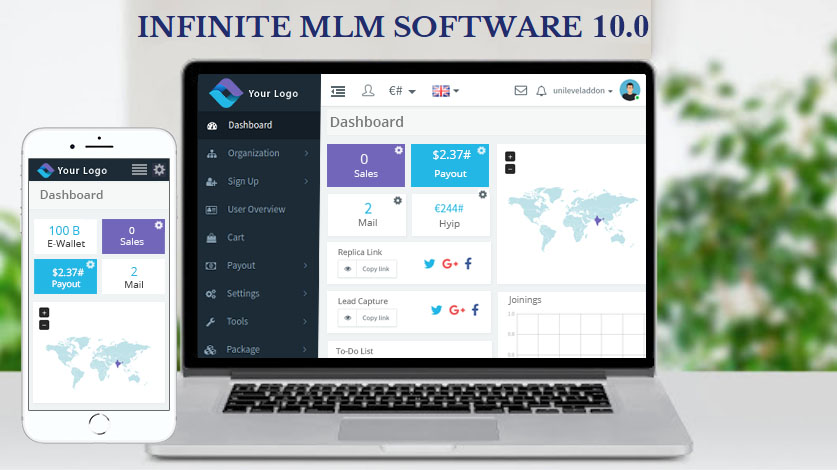 We are very much excited to announce the latest version of our Infinite MLM Software version 10.0!
The success of the previous versions of the software is what induced us to develop the latest version with a lot of advanced and exciting features.
Read more on MLM Version history details.
Infinite MLM software version 10.0 is crafted with the most modern techniques.
Features of Infinite MLM software Version 10.0
1. Additional bonus
Infinite MLM software Version 10.0 has integrated almost all types of bonus calculation to the software. It includes the calculation of matching bonus / overriding bonus, fast start bonus, infinity pool bonus / pool bonus, performance bonus like car fund, education fund, house fund, and vacation funds.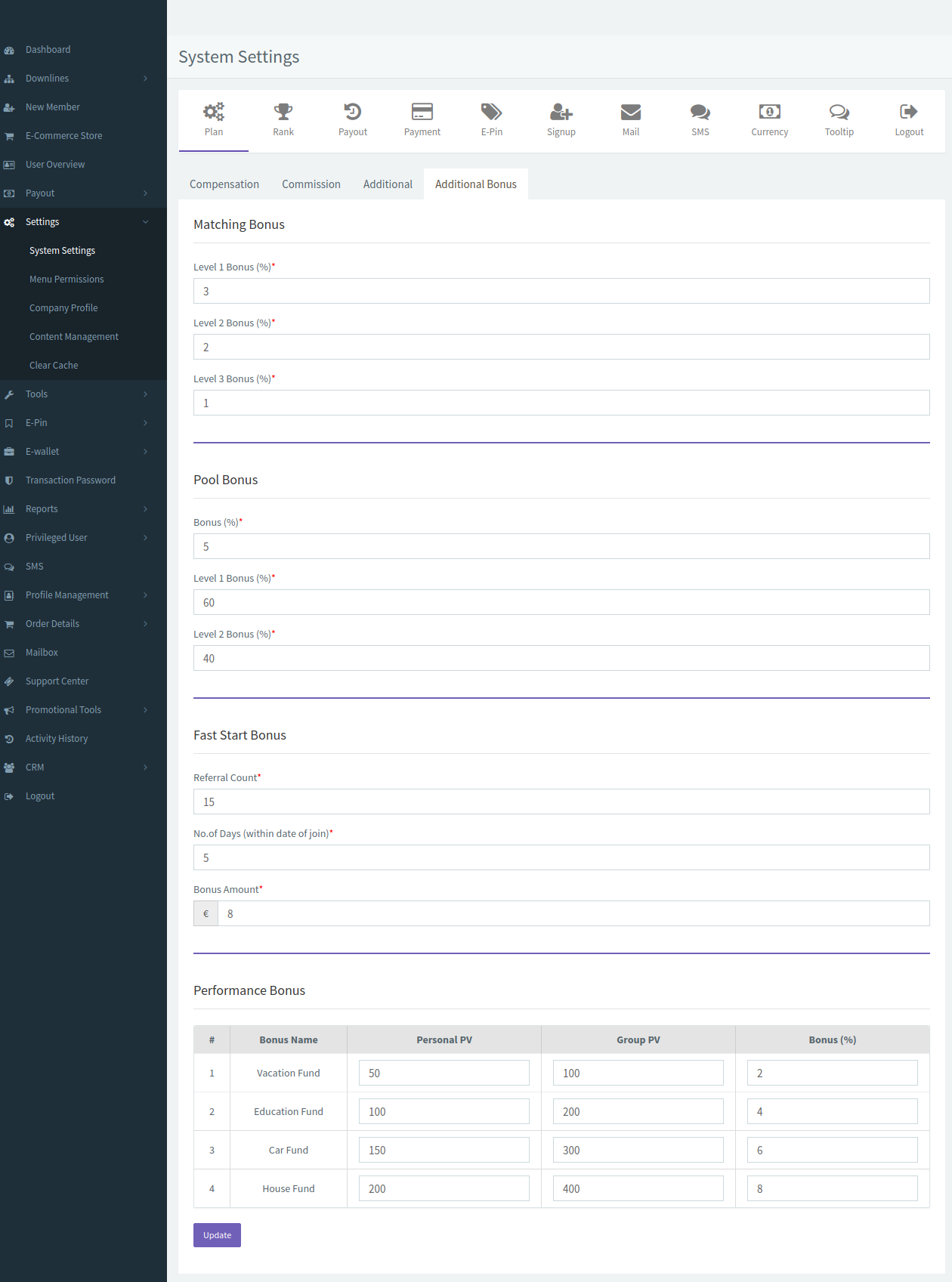 2. Advanced rank commissions
The Infinite MLM software version 10.0 also calculates the advanced rank commissions based on various criterias like referral count, downline count, team sale, downline member package count etc.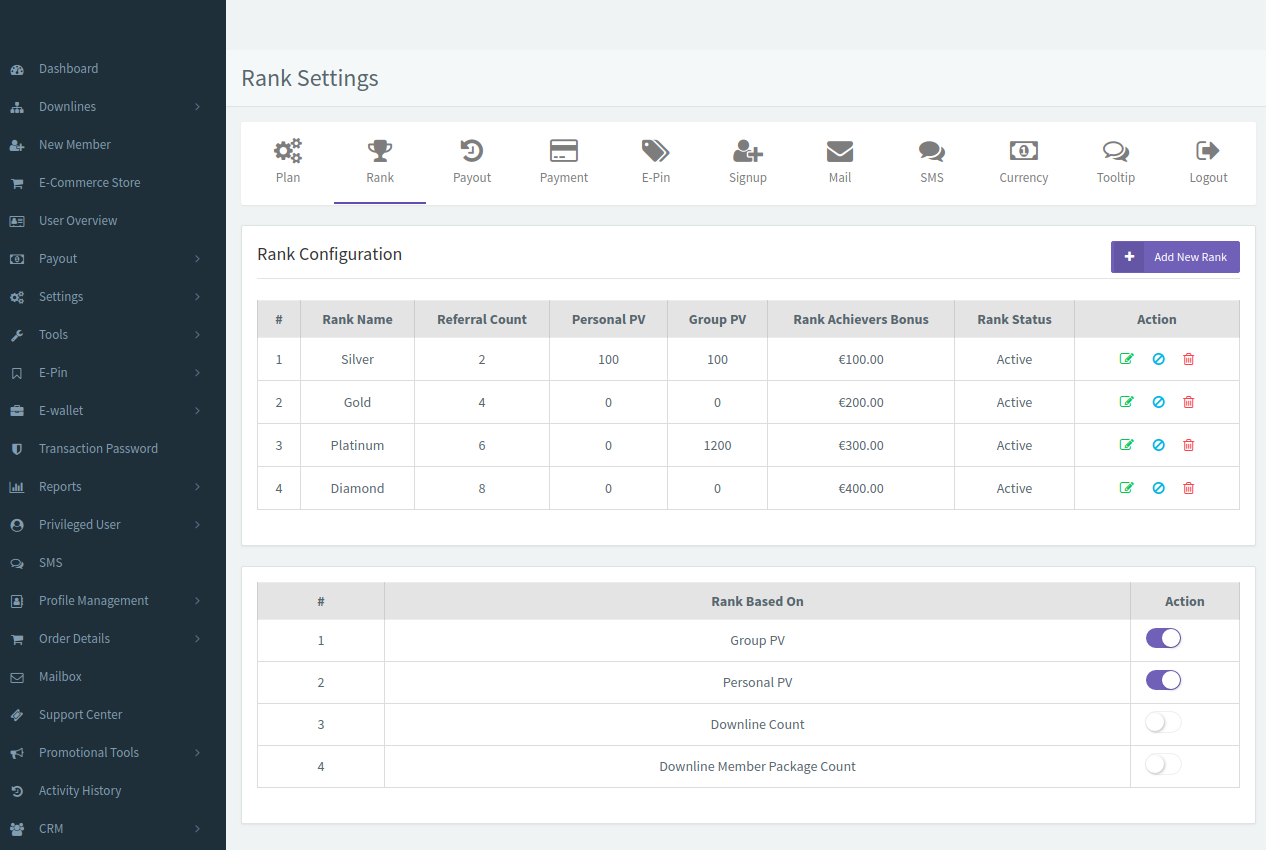 3. Advanced sponsor commissions
The new Infinite MLM software also provides the calculation of advanced sponsor commissions based on sponsor rank, sponsor package, joinines package etc.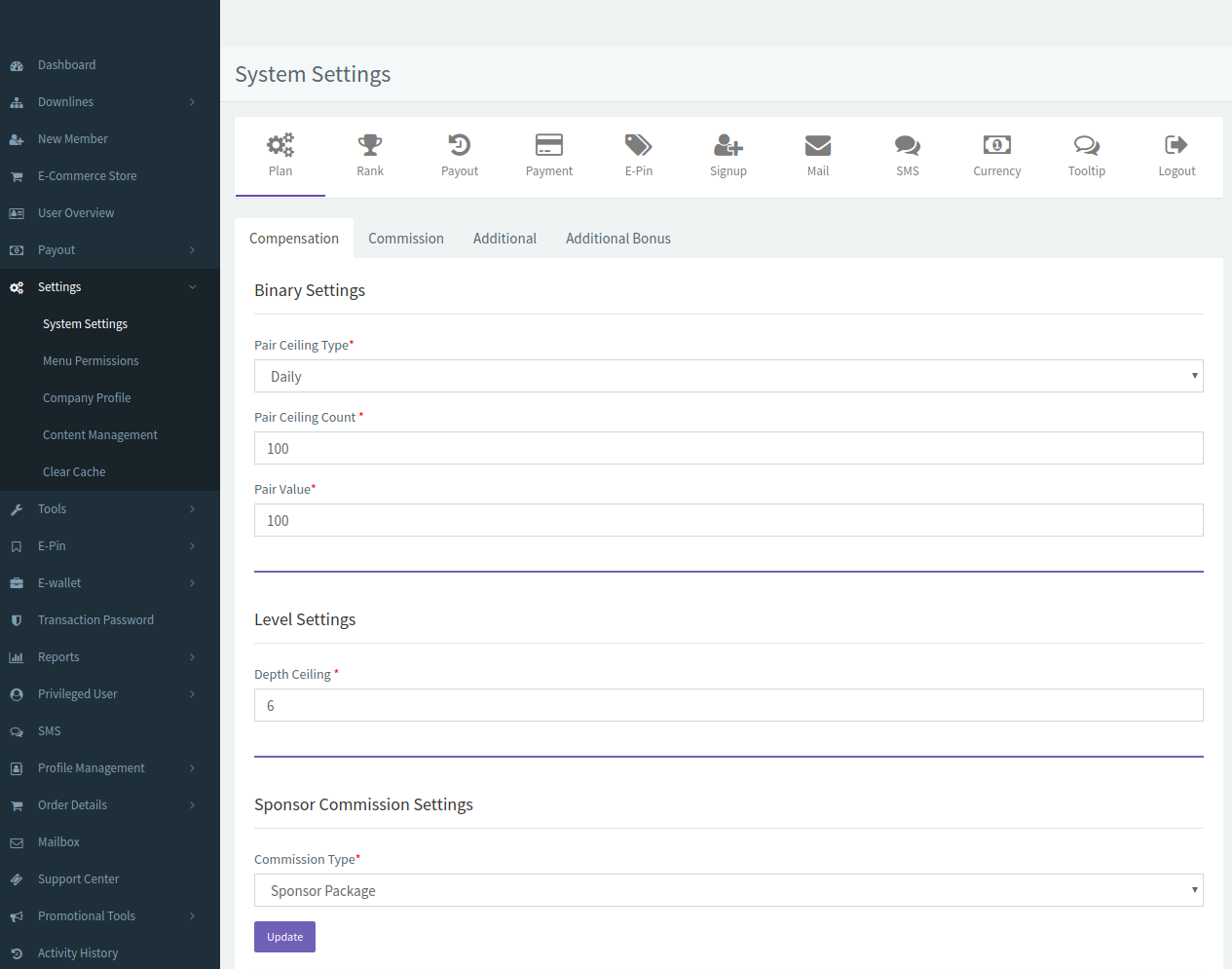 4. KYC module
Another important aspect of the latest version of Infinite MLM software includes a separate module for KYC updation.
It allows us to upload the KYC documents and also provides a confirmation option. The payout will only be released once we update our account with KYC details.
The Admin side of the MLM software provides an option of KYC document list configure option.

5. Mailgun implementation
The Mailgun implementation of the Infinite MLM software allows us to manage all the major functionalities of all mail such as registration mail, payout release, password reset mail, transaction password reset etc.
6. OTP verification
The update MLM software provides the facility of sending an OTP wherever required. For security reasons it sends OTP through email for the Payout release, Admin profile updation, Funds transfer.
Also the software sends email notification to Admin after the payout release to the registered email id.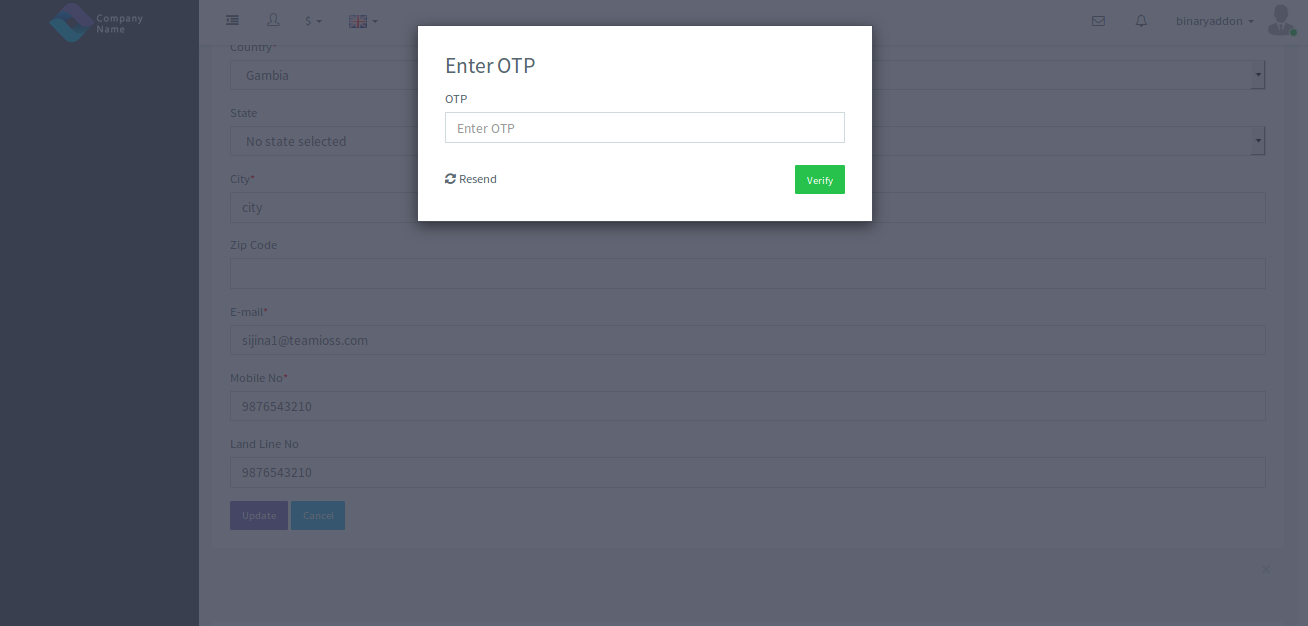 7. New reports
This section enable the users to generate a detailed fund transfer report and also the monthly revenue report.
Monthly revenue report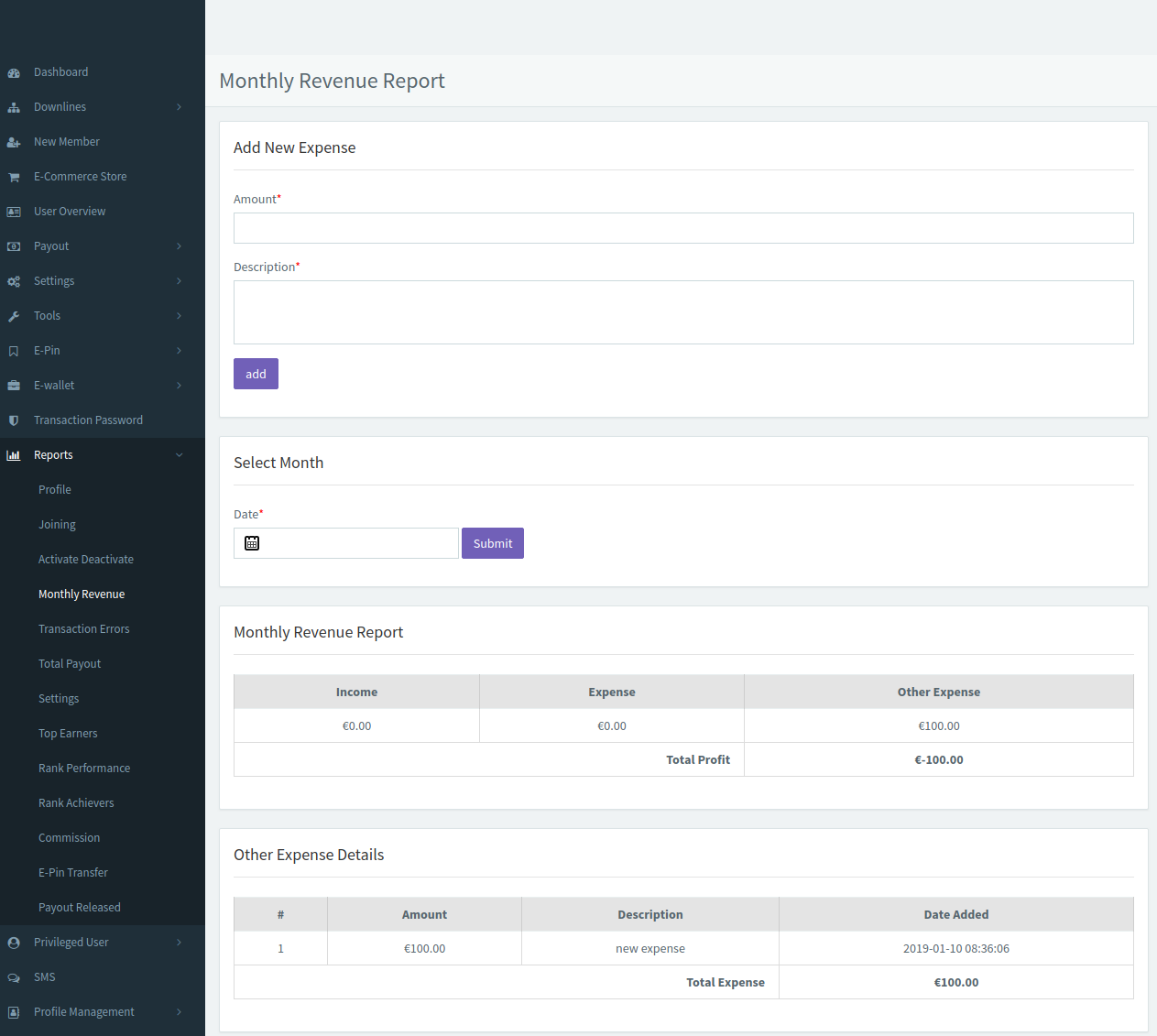 Transfer details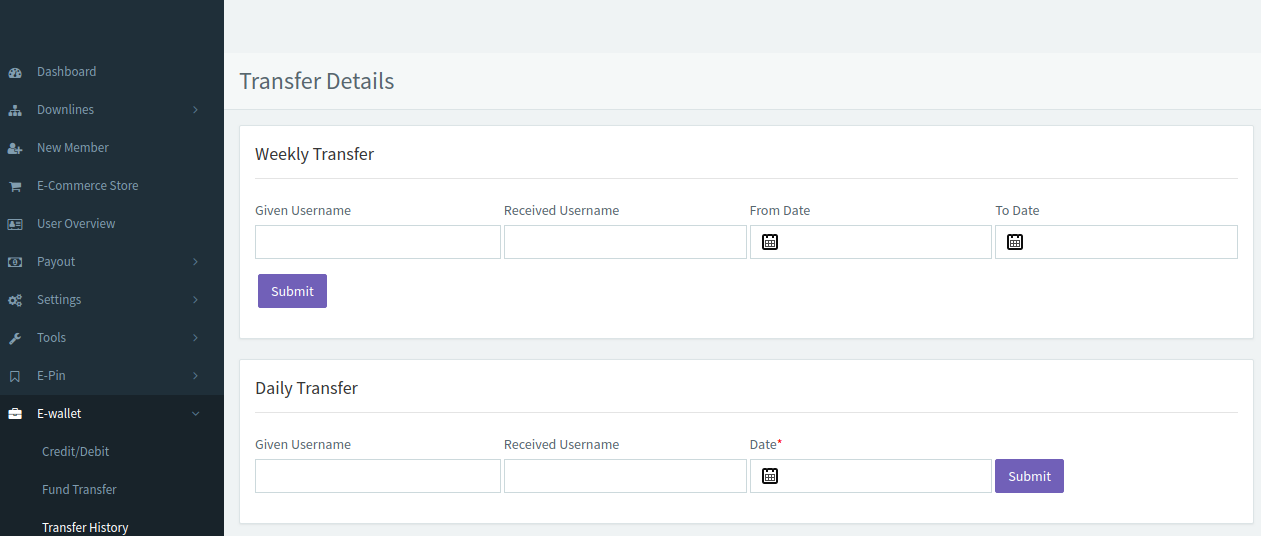 8. Genealogy tree tooltip configuration
In the latest version of software, the Admin can configure the tooltip details according to certain criterias.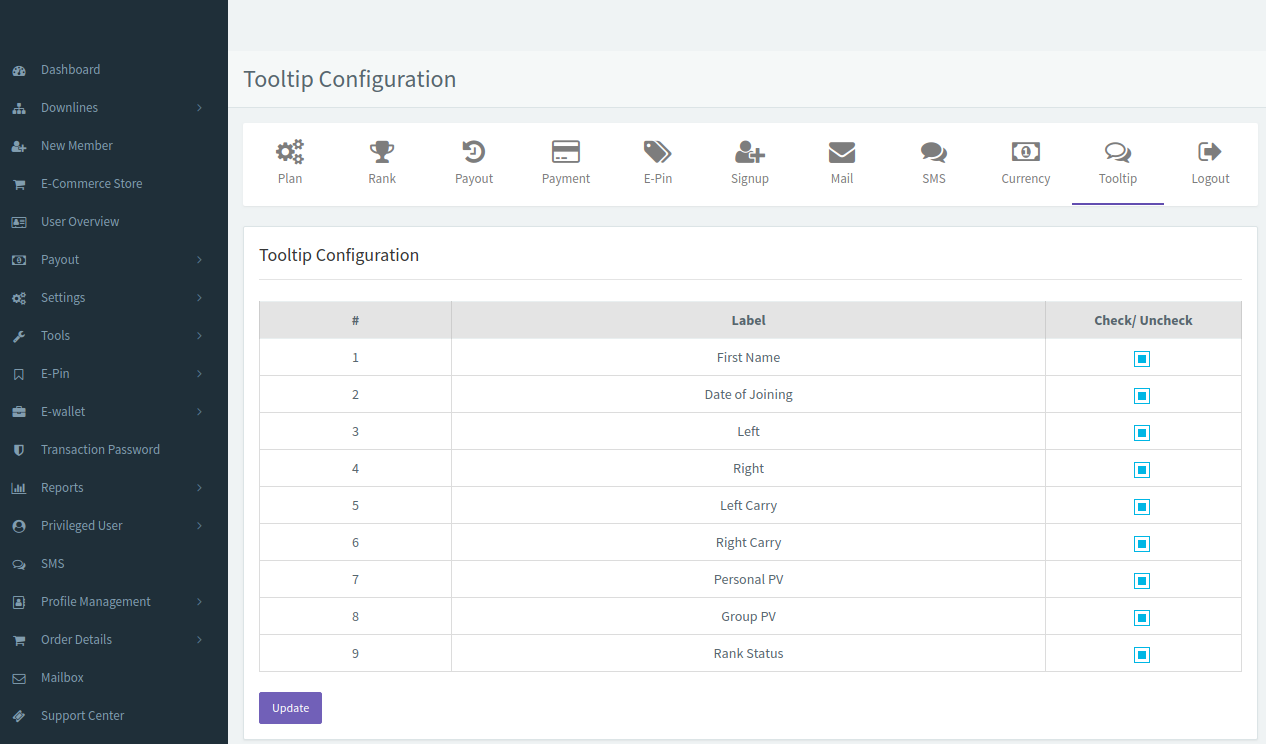 9. Manual package upgrade from admin side
This option enables the Admin to upgrade manual package.
10. Autoship using e-wallet
Version 10.0 of the Infinite MLM software allows to reactivate the membership even after the package validity expires. And it can be done using the e-wallet options.
11. E-pin refund option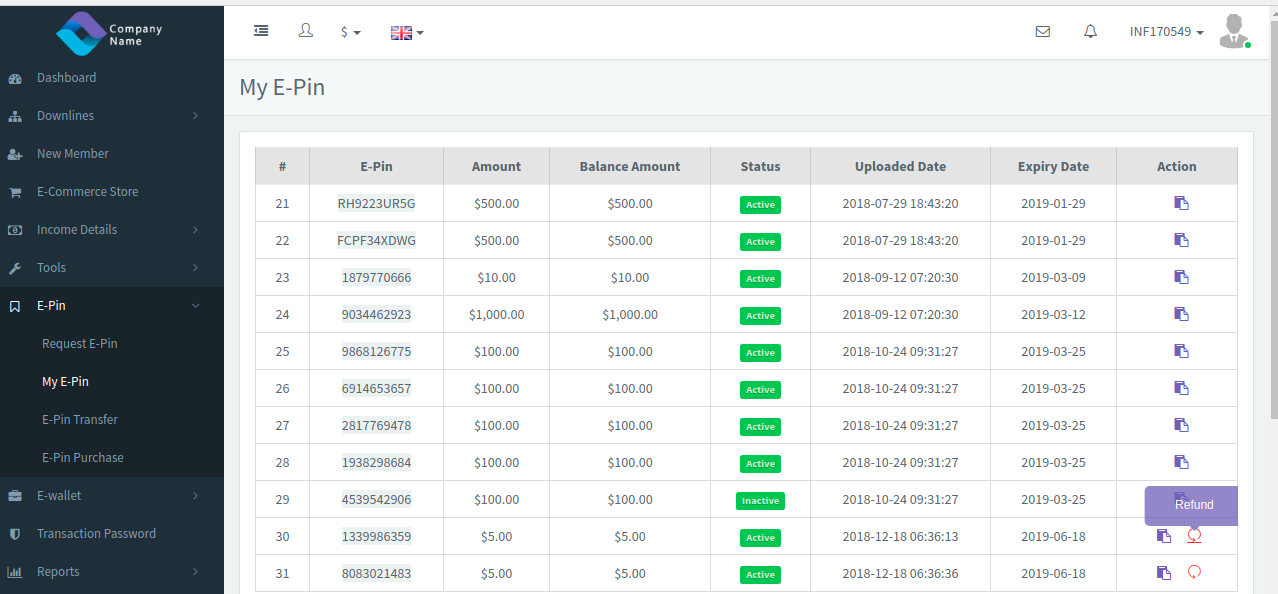 12. User selected language for user side
User can select the language of his choice from the User side.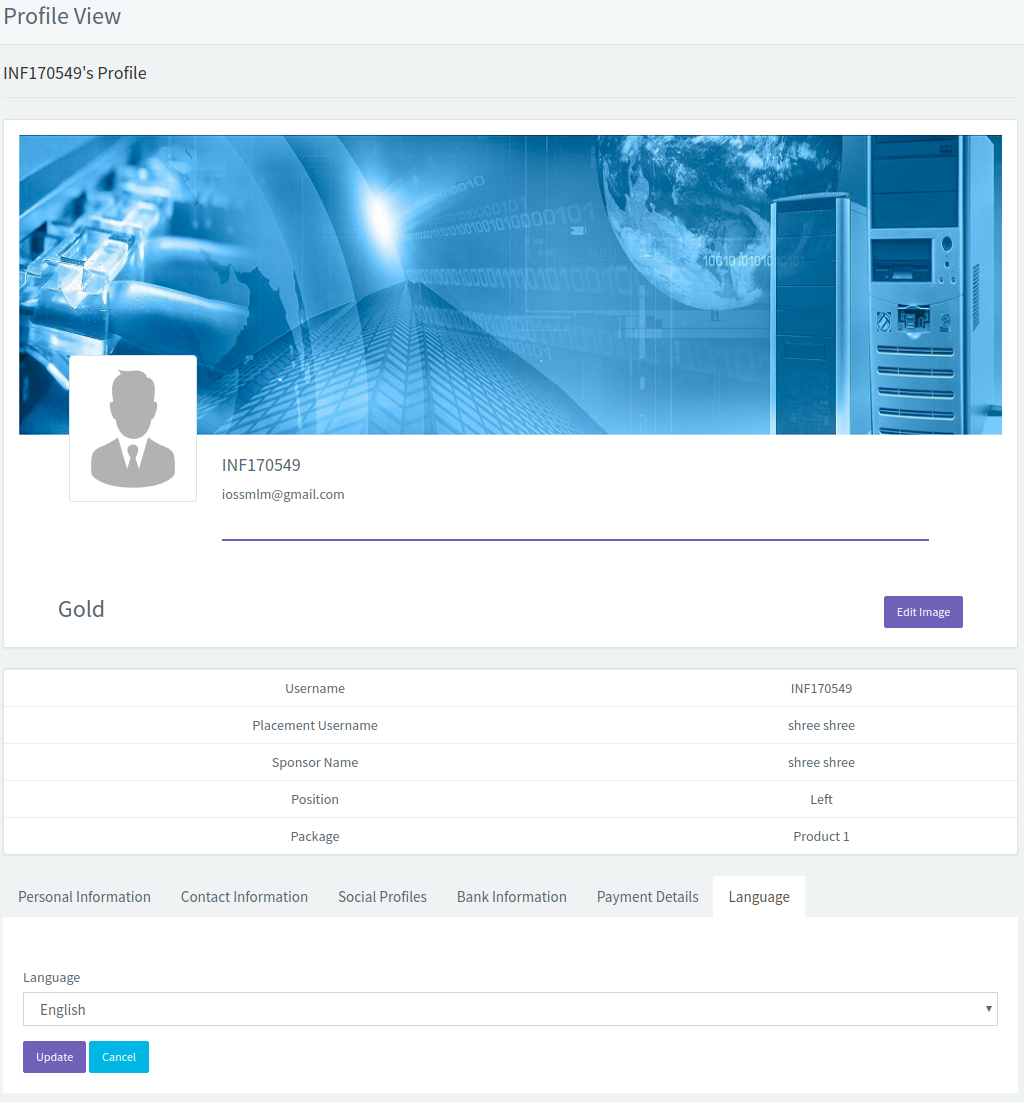 13. Social media sharing option for promotional tools
Version 10.0 also provides options for direct sharing in the social media such as Facebook, Google plus, Twitter etc.
14. User choice for payout release type
User have the option to choose the payout release method from a variety of options like Bank, PayPal, authorize.net, blocktrail, etc from their profile page.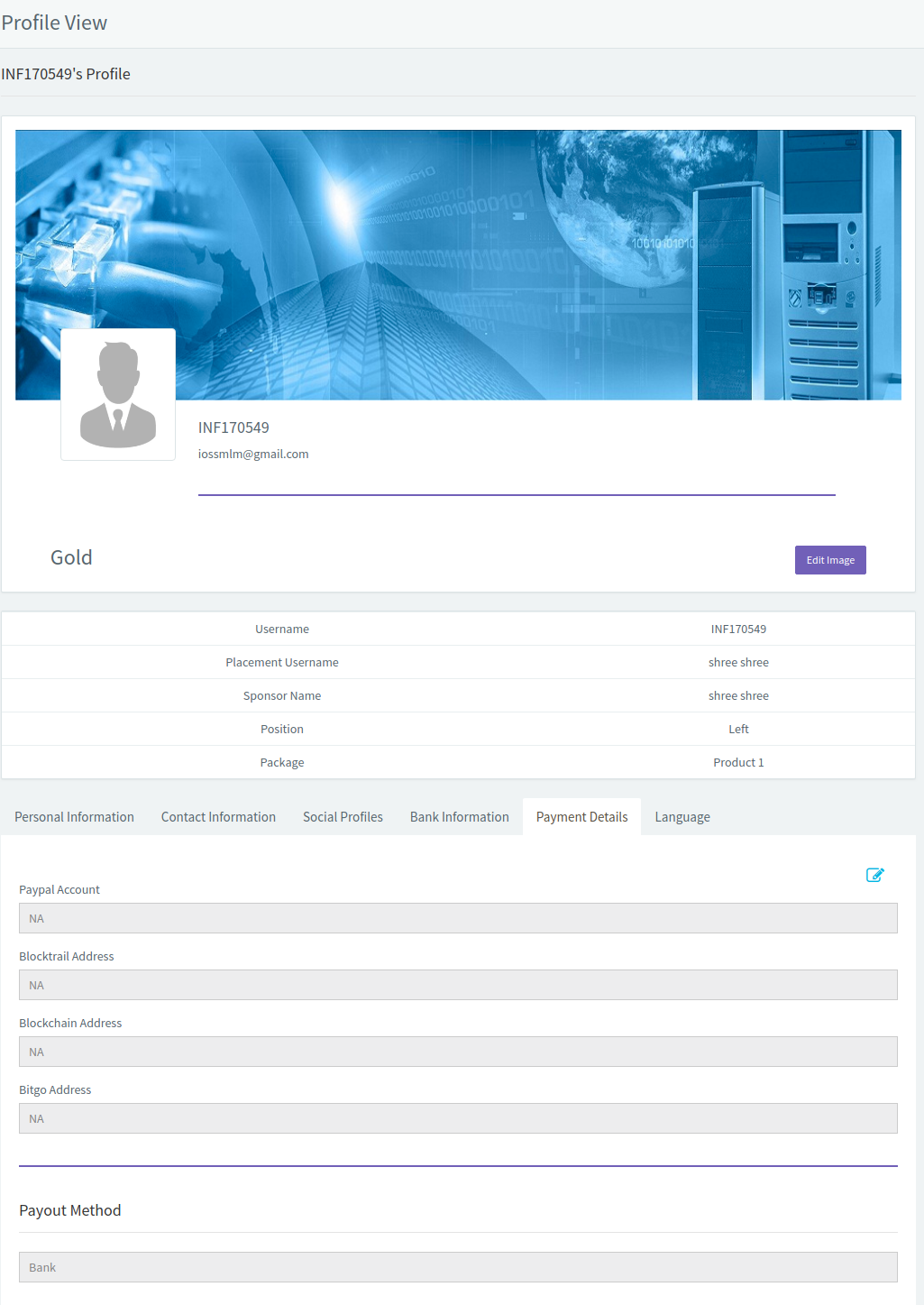 15. FAQ
Admin have option to add question and answers.

16. Menu permission
The Admin can set permission options for Menu from his side for Admin, users and privileged users.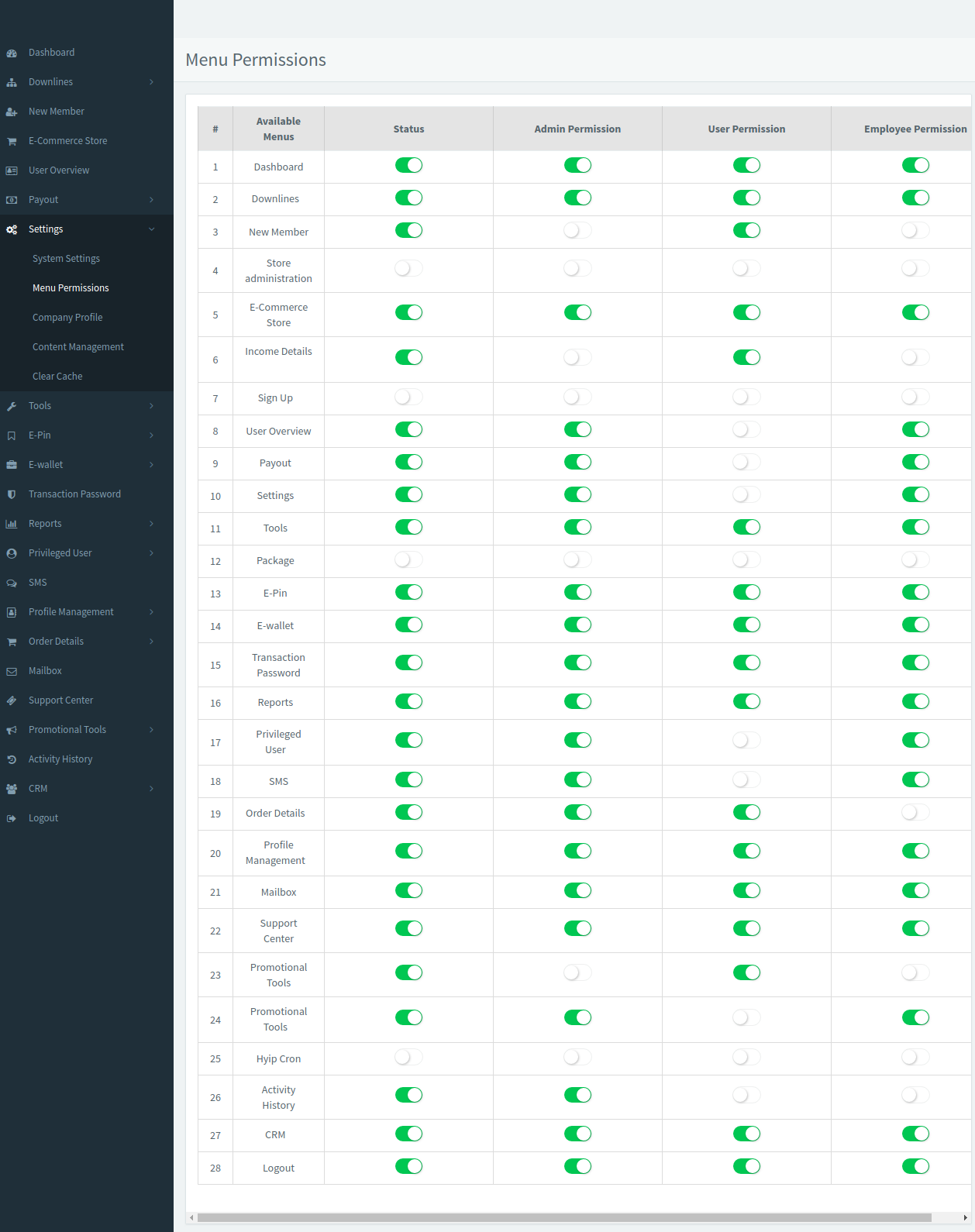 17. Transaction error report in admin side
The Admin can view the transaction error report if occurred any, from his side.

Read more on our successful Infinite MLM Software version release
Checkout our Free MLM Software Demo with latest features.