Are you planning to make it big in the Affiliate Marketing Business?
Well how do you choose the best Affiliate Marketing Software for your business?
Since, there are a lot of Affiliate Marketing Softwares out there in the internet. So how to know the best ones.
Anyways, we have prepared out a list of top 10 Affiliate Marketing Softwares, so that it helps you to choose the ones which will be really helpful for your business.
List of Top 10 Affiliate Marketing Software
#1. ShareASale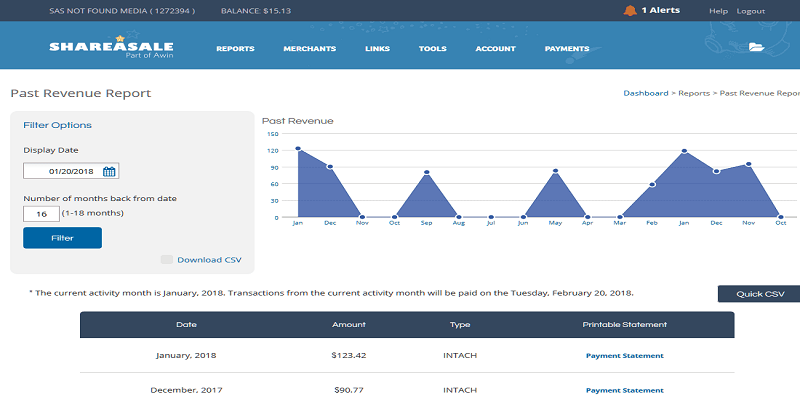 ShareASale has carved a niche for themselves in providing really wonderful performance marketing solutions. They have almost 18 years of experience in delivering fast and efficient tools which yield accurate results for the clients.ShareASale are simply the leaders in structuring campaigns to developing ads and data feeds. ShareASale would the best option if you are planning to build and grow your affiliate program. It costs around $650. They also deducts a recurring amount on the basis of the sales that you gain every month.
Features
Clickstream Attribution:

The customers can check on your link so many times, but buy the product only once. To understand the special behaviour of the buyer, ShareASale provides the option of timestamp data. ShareASale also supports the process of creating your own commissions based on the various situations, so that it encourages a specific behaviour among your target audience.

Real Time Tracking:

They provide the necessary details like at what time the link was clicked, when the sale occurred, etc. on real time basis.

StoresConnect:

If you are the owner of multiple stores across different places then ShareASale will be really advantageous for you. With this software, you can run the campaigns for multiple shops under one single account. You will be getting separate reports for each of your stores.
#2. HasOffers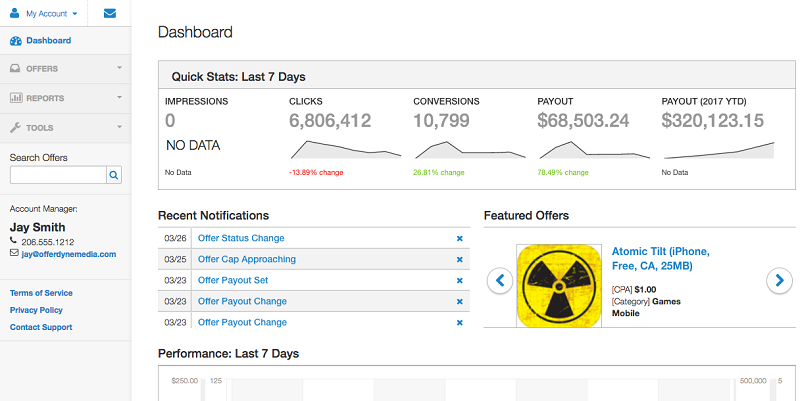 HasOffers is a cloud based affiliate marketing software, which are mainly used by large enterprises around the world. They charges a sum of $279 per month. Also they offer a free trial version of their software check whether it suits your company or not.
Features
24*7 Customer Care :

HasOffers a 24*7 customer care support so that the customers don't have to really wait if any issues arises with the affiliate software. They have a completely user friendly interface. Their customer support can be accessed through phone, chat or email.

Fully Customizable Platform

HasOffers fully customizable platform, so that it can be customized according to your varying needs. It includes personalizing your dashboard, develop your own applications to run along with the HasOffers, etc.

Powerful Reporting Tools

HasOffers provides really powerful reporting tools so that you don't have to depend on third party tools for performing some specific functions. The other facilities included in their package include email marketing, affiliate tracking and fraud management integration.
#3. Trackier
Trackier Affiliate Marketing Tool provides you a lot of options which can operated from a single and user friendly dashboard. Users can reach out to any areas of the marketing campaigns. They provide data on real time basis, so that the people involved can take better decisions quickly. The API of Trackier is made in such a way that it can be integrated with different applications.
Features
Central Marketing Hub:

vNative helps to unify all the marketing resources into a single umbrella with the latest technologies and hence results in a more result oriented campaign impact.

Highly-Configurable Platform:

The platform of vNative is designed in such a way that it helps to manage all your digital marketing campaigns, other marketing assets etc.

Can be Accessed Anytime, and Anywhere:

The vNative has an uptime of cent percentage and hence it can be accessed from any part of the world without issues even during high traffic in your website.
#4. ClickBank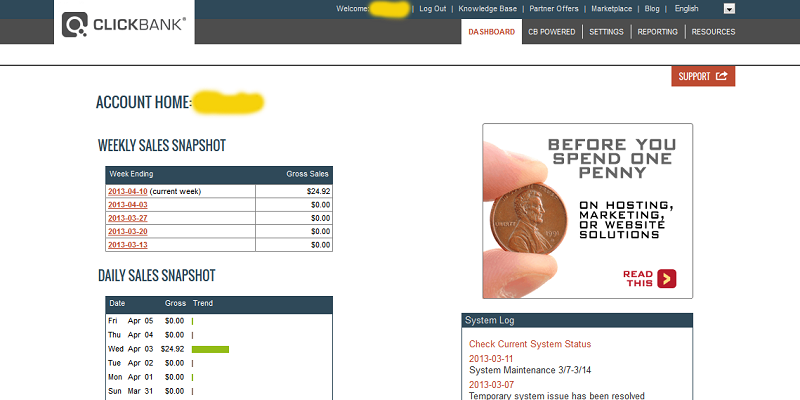 It is estimated that ClickBank has almost 200,000,000 users worldwide. ClickBank is an internet retailer which caters to all types of businesses, either it be be small, medium-sized or a large one. ClickBank is a completely cloud based affiliate software, and is highly responsive so that anyone can operate it from the mobile devices also. ClickBank is regarded as the most affordable affiliate marketing software that we have presently on the internet. You will be needing to pay an activation fee of $49.45.
Features
Streamlined Search:

ClickBank is one of the highly used Affiliate Marketing Software by the digital marketers and products. ClickBank allows you to find the right affiliate marketers on the basis of different filters like age, geographic area, etc. with their affiliate search tool. Also, they have a finder tool which enable the affiliates to find different products to market as well.

Extensive In-App Tools:

ClickBank provides a large number of in-app tools that lets you manage and plan content marketing, lead conversions etc.

Detailed Reporting Functionalities:

ClickBank offers third party reporting tool integrations and thus get a better grasp of your performance in the market.
#5. CJ Affiliate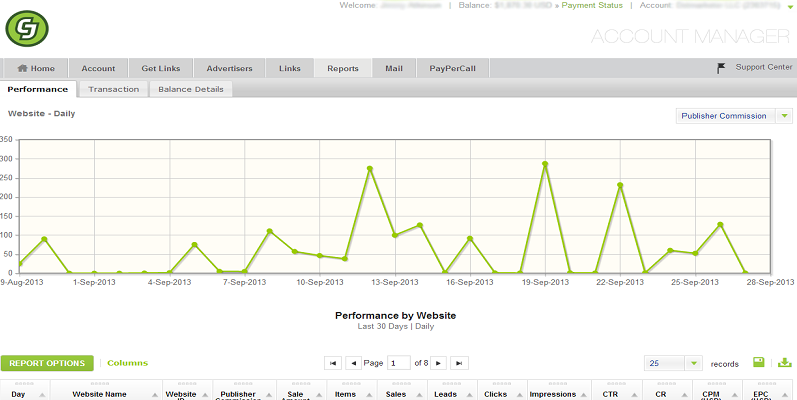 CJ Affiliate software is a purely cloud hosted affiliate marketing software and can be run on multiple platforms like on a computer, mobile etc.
Features
View Through Tracking Functionality:

The View Through Tracking functionality helps to encourage the affiliate marketers through incentives by the use of software's tracking technology and other reporting tools.

Multi-language and Multi- currency support:

Since CJ Affiliate is a global operates in different locations of the world, it provides the feature of report activity in multiple languages and currencies.

Faster Lead Generation:

CJ Affiliate has faster lead generation options, when compared to the other competitors in the market.
#6. VigLink
VigLink is a platform which helps both the publishers and merchants through hyperlinks, which are a main source for revenue generation.
Features
Hassle Free Link Insertion:

VigLink makes the process of inserting Affiliate links within your website content so easy. Inserting links is really easy using the VigLink Affiliate Marketing Software, since they offer an automatic link insertion feature.

Easy Integration:

VigLink offers a variety of integration methods that can work across different online platforms like websites, mobile apps, and desktop apps.

Cutting Edge Capabilities:

VigLink provides certain cutting edge features that no other ones deliver. They do have some wonderful tools which helps you to monitor your statistics.
#7. AffTrack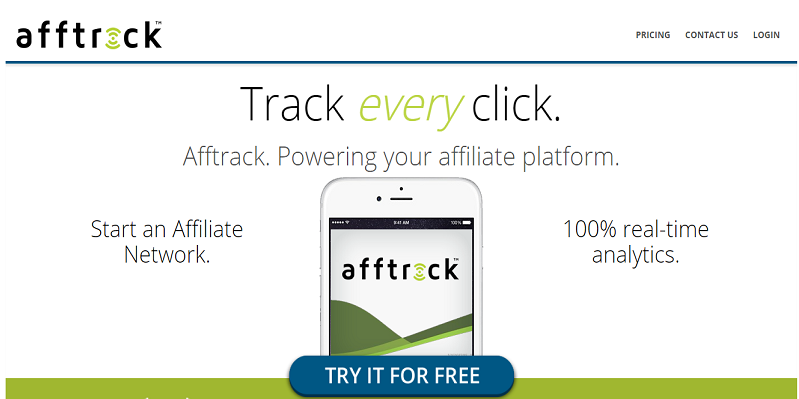 AffTrack mainly provides the details about the clicks that have received on your affiliate links. Moreover, it helps the different businesses in device targeting, suppression file management, invoicing, geo targeting etc.
Features
Real Time Data:

AffTrack provides real time analytics, so that it makes the manual processes like discovering, compiling data and interpreting data all automatic.

Mobile Interface:

This affiliate marketing software was built with keeping in mind about the marketers, and hence it provides a mobile-friendly interface to help the entrepreneurs, executives and other persons involved in the process.

24*7 Customer Support:

Their round the clock customer support services makes sure that they are there to help you whenever you come across technical glitches.
#8. Voluum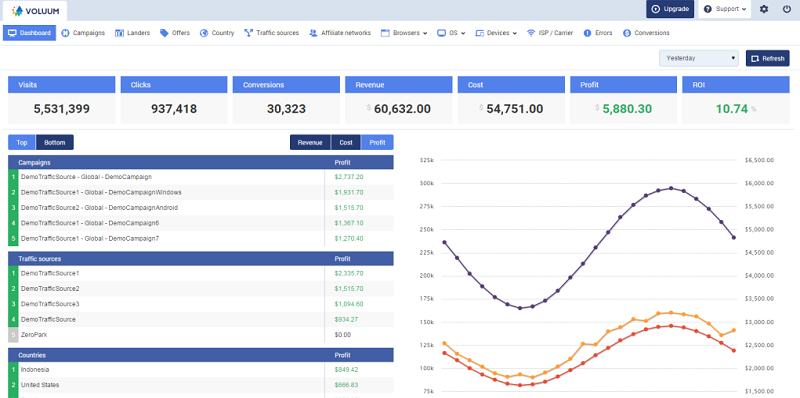 Voluum is a perfect performance tracker for companies and affiliates. Their areas of service includes advertising, analytics and affiliate marketing optimization.
Features
Instant Setup:

The instant setup feature of Voluum makes it easy to install the software within a matter of few minutes. Incase if you feel any difficulty in setting up the software, their live support will be there to help you all the time.

Advanced Tracking Capabilities:

Voluum offers tracking functionalities that helps in generating billions of revenue if executed out properly. Also it is in-built with anti-fraud functionalities that provides solid and secure authentication and encryption techniques.

Multiple Integrations:

Multiple integration features allows you to save time and energy during checking the progress of your campaigns.
#9. Post Affiliate Pro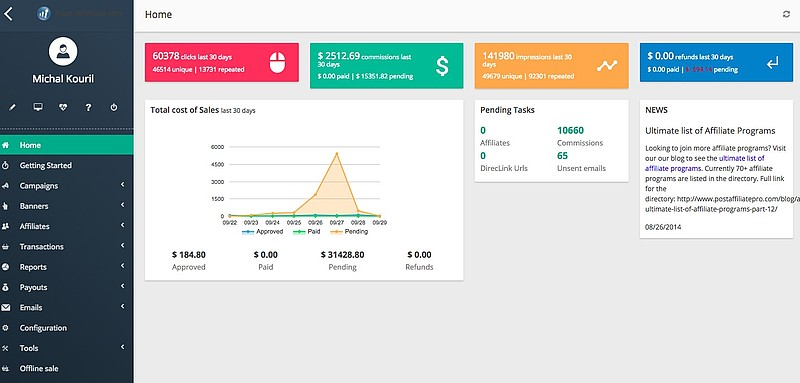 Post Affiliate Pro is another leading affiliate software which helps to track your online businesses or eCommerce websites on a real time basis. They are available in three packages, namely, Pro, Ultimate, and Network Packages and their prices are $97, $197, and $477 respectively.
Features
Direct Link Tracking:

Majority of the customers does not click on links on reviews, if they understands that these are affiliate links. As a solution for this issue, Post Affiliate Pro follows a direct link tracking feature.

Multi-Tier Commissions:

In affiliate marketing, providing your partners a fair compensation is a very much necessary factor for the success of your campaign. And hence in Post Affiliate Pro, it provides multi-tier commissions.

Innovative User Interface:

Post Affiliate Pro provides a completely user friendly and innovative user interface which enables you to make mass payments, quick reports, map overlays, and much more.
#10. Affise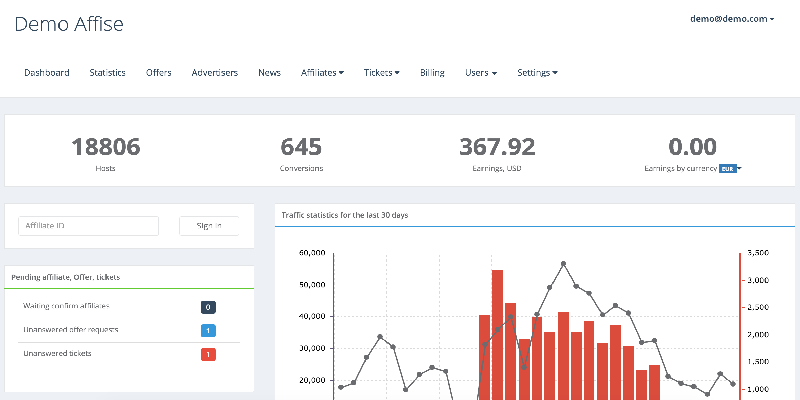 Affise would be perfect fit for performing your affiliate marketing operations. It's a completely cloud hosted solution, which can be accessed through Windows as well as Mac. Their monthly subscription plans ranges from $299 to $499. They also provide a free trial version for the benefit of their customers.
Features
Versatile Affiliate Marketing Platform:

Affise would be a perfect fit for you business, despite of their size. It's API is developed in such a way that it merges perfectly with third party applications.

Simplified Payouts:

Affise supports multiple currencies and different payout procedures. So that it makes much easier to release the payout the affiliates' commission in a more accurate manner.

Smart Targeting Tools:

The Smart Targeting Tools of the Affise Affiliate Software helps to increase your conversion rates. It does not matter if you want to streamline your campaign on the basis of device model, Internet Service Provider, Operating System, or Location, Affise Affiliate Software would be your perfect fit!
How to make money through affiliate marketing is a question many new people ask themselves when they first come online searching for a new business. Affiliate marketing is a great way to earn money without having your own product. There is something very attractive about the concept of earning residual money online from affiliate marketing.
Make use of any of the mentioned top 10 Affiliate marketing software's that will help to automate your business.
Conclusion
Choose the one which you feel would be the best for your business from the above given list of Top 10 Affiliate Marketing Softwares. All of them are some of the best ones. And if you have any more additional suggestions or comments regarding the same, drop it down below!
Recommended Read: MLM Affiliate Software for Online Network Marketing Business